Ludacris Talks About Going to Space in 'Fast 9' and the Finale(s) for the 'Furious' Family
"My definition of family, sometimes it doesn't even have to be blood. It could be about love, it's about loyalty."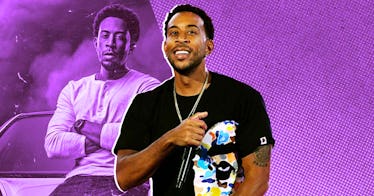 GETTY / Universal Pictures
Ludacris is ready (sort of) for the finale of the Fast and Furious movies. But are you?
The Fast and the Furious blockbusters, for all their gleaming cars, booming explosions, and outlandish stunts, are about family. Family of the blood variety and the family we choose. F9, the upcoming ninth entry in a $5 billion franchise, sticks with that winning formula. Expect everything from mega-magnets to vehicles zipping across rickety bridges to a car flying in space. Yes, you read that last one right. And then there's Dom (Vin Diesel) and Letty (Michelle Rodriguez), and his young son, Marcos, as well as Dom's sister, Mia (Jordana Brewster), plus their circle of friends/crew, which includes Tej (Chris "Ludacris" Bridges), Ramsey (Nathalie Emmanuel), Roman (Tyrese Gibson), and Han Seoul-Oh (Sung Kang). Among the villains are Cipher (Charlize Theron, returning from The Fate of the Furious) and the assassin Jakob (John Cena), who also happens to be Dom's estranged brother and quite formidable behind the wheel of a car himself.
Fatherly chatted via Zoom this past weekend with rapper-actor Ludacris, who shared his thoughts about F9, which will rev into theaters on June 25, and the franchise's impending conclusion. He also updated us on his family-friendly site, KidNation.com, and revealed if his kids – he's got three daughters, with a fourth child on the way — think he's as cool as we do.What's your definition of family?My definition of family, sometimes it doesn't even have to be blood. It could be about love, it's about loyalty, it's about dedication, and it's about progression. That's what I would say.How would you say F9 furthers the Fast and Furious family, develops the characters more?It develops it more because we never knew Dom had a brother. All these different movies, and then you realize that there's someone of the same blood as Dom. And so it ups the ante and ups the stakes, especially because we're going against him. So, it adds a whole new element and an element of surprise as well.It's interesting because it's family threatening… the family.Exactly, that's what I'm saying. So, if Dom was always our hero and savior and the most resilient person we knew, it might be someone that's just as, if not more, resilient and stronger than him.What was your reaction when they said, "Luda, you're going to space"?I was like, "Hell, yeah." Anytime that's going to be a talking point or something that I know any movie with a $250-million budget is going to be able to make that come to life, I'm all for it. And we'll beat Tom Cruise to the point!Roman survives an absolutely insane crash sequence, and you then utter one of the film's best lines: "How the hell are you not dead?" How much fun did you have with that?"How the hell are you not dead?" I had fun with that. I remember telling Tyrese that. I'm glad you think that's the best line in the movie. I had fun, man. You give different takes, and that whole set and being out there in London, and it was just amazing.Supposedly, the Fast and Furious franchise is riding toward the finish line. F9 is film one of three that will close it all out. Are you sad are you about that, ready to let it go, a bit of both?I'm not sad at all, and I'm not ready to let it go. I'm just thankful that we were able to do 11 movies. And me, I've been able to do seven of them so far. So, I have no complaints whatsoever. Every good thing has to come to an end at some point. I think I got more than what I even bargained for and more than I expected. So, I'll be forever thankful.Your next project, just announced will be, End of the Road. What excites you about the film?Just that it's a little different, and the people involved, like Beau Bridges and Queen Latifah. And I think it speaks a lot about what a lot of families are going through currently, through this pandemic. So, it's just trying to hit that nerve.It's been revealed that Queen Latifah plays a mom her loses her job and drives cross-country with her family to start over, only to find themselves stuck in the New Mexico desert and in the crosshairs of a killer. But what will you be playing in it?I don't think I'm allowed to say yet.The last time we spoke with you, you were launching your site, KidNation.com. What's happening with it? How has it grown?KidNation is alive and well. You can go check everything out. We have new songs every day. We have new videos. So, (it's) continuously evolving and (we're) making sure that we are interactive in social media and making sure we're talking to the parents and giving them the best quality entertainment that they can get (for their families).Everything we read about you refers to how super-cool you are. How cool do your kids think you are?Ah, they think I'm pretty cool, because at home sometimes they forget, and then they see me pop on screen or they hear one of my songs come on, and then they're dancing like crazy and they're jumping for joy. So, they think I'm pretty cool.When are fans of your music going to hear new tracks?Next year. 2022. I've got to finish all these movies first. So, we will get something soon.Too many movies… Nice problem to have, right?That's a great problem to have.
F9 opens on June 25. KidNation is free at KidNation.com.
This article was originally published on