Owen Wilson and Tom Hiddleston Troll Mackie and Stan With Hilarious 'Loki' Poster Reveal
The stars of 'Loki' are messing with the stars of 'The Falcon and the Winter Soldier.'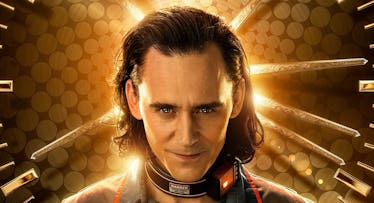 Credit: Disney+
Everyone knows that the biggest Marvel show of the year will be The Falcon and the Winter Soldier, but what Owen Wilson and Tom Hiddleston are presupposing is — maybe it's Loki?
With The Falcon and the Winter Soldier set to debut its first episode on Disney+ on Friday, March 19, the next MCU show after that has also announced its official release date. The time-skipping series Loki announced a new debut date: June 11. Disney+ sent out a new poster, featuring Hiddleston as Loki, standing in front of a clock, so yeah, time travel!
On the show, Owen Wilson is set to play Mobius, a guy who works for the TVA or "Time Variance Authority," an organization that keeps an eye on time travel and alternate timelines throughout the Marvel multiverse. In a hilarious poster reveal video, Hiddleston and Wilson pay tribute to "Anthony [Mackie] and Sebastian [Stan]" by revealing their own "superpowered duo," which is basically just each other. Although, Hiddleston is quick to point out that Wilson's new character Mobius is more of a "bureaucrat," while of course, Loki is "technically a god."
Falcon and Winter Soldier will run for six episodes, which means it will end in on April 23. From there, we'll have roughly a two-month wait until Loki. Still, considering there were almost zero new Marvel things in 2020, it seems like 2021 is the comeback year!
Loki hits Disney+ on June 11.
This article was originally published on