Confirmed: 'Loki' Will Finally Bring the Multiverse to Marvel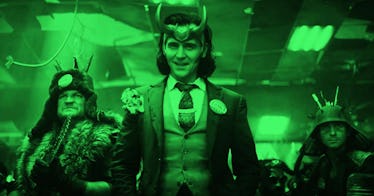 Disney
Loki was already one of the most highly-anticipated projects from the Marvel Cinematic Universe but a recent interview from Kevin Feige should make everyone even more excited for the god of mischief spin-off. While speaking about the upcoming Disney+ series, the Marvel Studios president confirmed that it would serve as the MCU's official introduction into the multiverse.
"Part of the fun of the multiverse and playing with time is seeing other versions of characters, and other versions of the titular character in particular," Feige told Entertainment Weekly. "He's been around for thousands of years. He had all sorts of adventures. Wanting to fill in the blanks and see much more of Loki's story [was] the initial desire [for the series]."
The idea of Loki exploring the multiverse should not come as too much of a shock to diehard MCU fans, as the studio has hinted at the multiverse many times, most notably with the Mysterio fakeout in Spider-Man: Far From Home and Wanda and Vision's journey through the history of family sitcoms in the first few episodes of WandaVision.
And, of course, with Doctor Strange in the Multiverse of Madness set to be released next year, it was only a matter of time before the MCU officially began exploring alternate timelines and all the larger metaphysical implications that entails. But Feige's quote confirms that we won't have to wait until 2022 in order to see how the multiverse is handled in the biggest franchise in cinematic history.
And Loki as the entry point makes perfect sense, as a recent trailer for the series showed that the titular troublemaker was picked up by the Temporal Variance Authority, a time-travel law enforcement agency, after grabbing the Tesseract and making a run for it during the time-heist in Avengers: Endgame. This basically means that the main Loki in Loki is not the same Loki as the one we know from the most recent MCU movies. And based on Feige's quote, it sounds like we're going to be introduced to a lot more Lokis, which sounds like a perfect recipe for a whole lot of chaos to seep into the rest of the MCU.
We won't know the full extent of how much the multiverse plays a part in Loki until the show airs or how its presence in the series will affect the rest of the MCU. But don't be surprised if the series sets up a lot more multiverse storytelling for the upcoming slate of Marvel Studios projects.
Loki will be available to stream on Disney+ starting June 9, 2021.