Disney+ Simpson's-Marvel Crossover Looks Ridiculous — In a Good Way
The god of mischief will be teaming up with TV's most notorious prankster.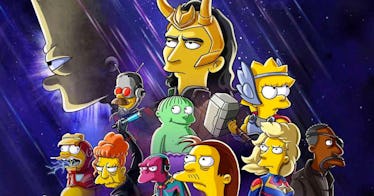 20th Century / Disney
Loki has been banished from Asgard more times than you can count but he may have found a new home in the little town of Springfield, as the god of mischief will be joining The Simpsons for "The Good, The Bart, and The Loki."
Disney+ announced today that the new Marvel-themed short from The Simpsons will debut on the streaming service on July 7. Tom Hiddleston will be voicing Loki in the short, which will focus on Loki heading to Springfield after he is once again kicked out of his home. Not much else is known about the plot of "The Good, the Bart, and the Loki" though Disney did say in the announcement that Loki and Bart would be joining forces.
A pop-culture crossover can be a risky proposition, as the whole often turns out far lesser than the sum of its parts. But in this case, there's reason for optimism, as Loki and Bart feel like a match made in Heaven. Loki has never crossed paths with someone who matches his delight for misbehavior but he may have finally found his equal with Bart. It's all but guaranteed that these two legendary pranksters will get into some serious mischief and lightly terrorize Homer, Principal Skinner, and the rest of the residents of Springfield.
We could be looking at the McCartney-Lennon of pranking, as these two coming together will surely inspire them both to do some of their all-time best troublemaking. What sort of chaotic recklessness could these minds concoct? It's impossible to even imagine but more than anything, I am hoping they will have time to crank call Moe's Tavern, as I would love to see the sort of pun-based names Loki could come up with to fool poor old Moe.
"The Good, the Bart, and the Loki" will premiere on Disney+ on July 7.