'Loki' Was Just Kinda Spoiled By This Awesome Marvel Action Figure Leak
You can pre-order this awesome Loki action figure right now. But, beware of spoilers on the box!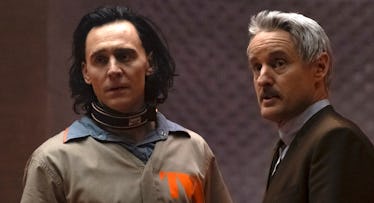 (L-R): Loki (Tom Hiddleston) and Mobius (Owen Wilson) in Marvel Studios' LOKI, exclusively on Disney+. Photo courtesy of Marvel Studios. ©Marvel Studios 2021. All Rights Reserved.
Everyone knows that the real Loki died fighting Thanos, but what this new Marvel action figure presupposes is — maybe he didn't? By now, we've all kind of figured out that the version of Loki (Tom Hiddleston) we meet in the upcoming Disney+ series Loki is not from the same timeline as the Loki who teamed up with his brother in Thor: Ragnarok. That good version of Loki is dead, but long-live the Loki who stole the Tesseract in Endgame! Possible spoilers ahead. Scroll fast if you want to pre-order the action figure!
Welp, now a really cool new action figure (which you can pre-order!) maybe just spoiled what's really going on in the world of the Disney+ series Loki. Turns out there's something called the "Sacred Timeline" and the new Loki in Loki has done something to mess with it. On the box for the new action figure the basic premise of Loki is finally revealed, maybe by accident. According to the text on the back of the new Marvel Legends 6-Inch Loki Action figure:
"Mere moments after his escape in during the events of Avengers: Endgame, Loki is apprehended by the TIME VARIANCE AUTHORITY (TVA) and arrested for his crimes against the 'sacred timeline.'"
So, we've known for a while that Owen Wilson is playing Mobius at the TVA, and that he's recruiting Loki to do something. But now it looks like there's something called the "sacred timeline," which seems to imply that Steve Rogers didn't "trim all the branches" in Endgame and that a few alternate universes must exist because of what happened in Endgame.
This detail could support another fan theory which suggests that Loki will encounter a BUNCH OF OTHER Lokis throughout the course of the show. Basically, there isn't just one Loki anymore. There are a bunch.
The new Loki action figure isn't out yet, but when you buy that one, you can get a bunch of other parts that all let you assemble the Sam Wilson version of Captain America. Cool! Here's the new action figure of Bucky, from the same line also available for pre-order.
Loki hits Disney+ on June 11, 2021.
This article was originally published on