Parents Should Rewatch the Mayweather-Paul Fight With Their Kids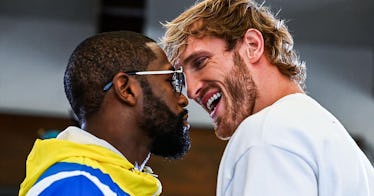 GETTY
When Logan Paul entered the ring against Floyd Mayweather on June 6, 2021, many assumed that the YouTuber turned boxer would quickly get knocked out by his opponent, who held a 50-0 record during his legendary career. But even though Paul did end up unofficially losing to Mayweather, he managed to last all eight rounds, surprising many of his critics. If you have a kid interested in sports, this is an important teachable moment. Size matters, and weight classes in specific, are important.
How was Paul, who has fought in one professional fight, able to go the distance with one of the greatest boxers of all time? The 18-year age difference certainly played a big role, along with Mayweather making it clear he did not do his usual preparation for the fight. But the biggest factor had more to do with the size of the two fighters.
Paul stands 6-foot-2 with a 76-inch reach and while he was able to get down to 189.5 pounds for the fight, he usually weighs closer to 200. By contrast, Mayweather stands 5-foot-8 with a 72-inch reach and weighed in at 155 pounds, though he often was below 150 for previous fights.
Even with Paul losing weight and Mayweather gaining, the size disparity between these two remains massive, putting Paul at a huge advantage when the two faced off in the ring. Even someone as skilled as Mayweather is going to have an extremely difficult time knocking out someone who is six inches taller and 35 pounds heavier than him.
And that size disparity actually makes the fight worth showing to your kid, as it serves as the perfect introduction to weight classes and why they exist— and should exist — in boxing. Explaining the importance of weight classes in boxing to a kid can be a tough task but this fight could provide the opportunity to demonstrate just how much size matters.
At 155, Mayweather would qualify as a middleweight in a professional fight, while Paul would be a cruiserweight. And when you see the two in the ring, the size difference is immediately clear, as Paul towers over Mayweather.
Fighters from different weight classes are not allowed to fight each other professionally because of how much of an advantage larger fighters have. That is why the Paul-Mayweather fight was just an exhibition match, meaning the fight had no official judges, nor an official decision.
And while this time of exhibition may have attracted millions of new fans to boxing, it doesn't properly reflect how opponents are matched up against each other, with weight classes determining which fighters are allowed to face off in the ring.
You can watch the Mayweather-Paul fight on Showtime.