Who's that Zookeeper? The 4 Most Hilarious Moments From Lizzo's 'SNL'
Lizzo's 'Saturday Night Live' was equally parts sweet and raunchy.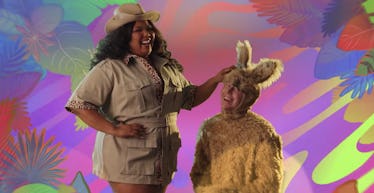 Credit: NBC
Saturday Night Live is in the home stretch of one of its best seasons of the last decade but last night's episode proved you don't need to worry about the show getting lazy at the end. Lizzo had no problem taking on hosting duties and being the episode's musical guest, as she debuted two new songs while appearing in nearly every sketch. Her unbridled enthusiasm seemed to spread to the entire cast, making it one of the most energetic and fun episodes of the entire season. Here are four of the best moments from the episode.
Monologue
Given her obvious musical talent, you may have been expecting Lizzo to do a musical number during her monologue but that did not turn out to be the case. Lizzo's confidence and excitement were on full display the second she walked on stage and it was clear we were in good hands, as her natural charisma made it feel like she was closer to joining the five-timers club than being a first-time host. She joked about the rumors surrounding her dating life and bragged about giving a TED Talk about the history of twerking, claiming that she was like "if Einstein could make that ass clap."
SNL Explains TikTok (Again)
Nothing makes millennials and Gen Xers feel old quite like trying to figure out what exactly goes on in the world of TikTok. Thankfully, SNL is here to be your TikTok guide with another video that shows the type of stuff that you can expect to see on the app. There is no shortage of weird stuff, including a guy walking on all fours for 342 consecutive days, teens mercilessly pranking their grandparents, and, of course, a man dressed as a tiger explaining the conflict in Ukraine. Are we any closer to understanding TikTok? Not really but the sketch is great rapid-fire showcase for the cast.
Please Don't Destroy
This writing trio has been delivering hits all season long and they did it again in a hilarious video where Lizzo asks them to help her write "a Black woman anthem" because she is experiencing writer's block. Ben, Martin, and John do a predictably terrible job coming up with songs until they accidentally give her the perfect idea: Horny Zookeeper. Please Don't Destroy has made a huge impression in their debut season by binging a little bit of absurdism and a whole lot of silly to SNL.
Beanie Babies
This episode was filled with sketches that will resonate with people who grew up in the '90s and early aughts, with the Black Eyed Peas and the Six Flags dancing guy both making appearances. But the funniest one was about a guy named Steve (Andrew Dismukes) who quits his job because he is convinced he is going to make a fortune off his Beanie Babies collection. Unfortunately, he quickly learns that the little stuffed animals no longer have any value and has a meltdown.