The Baddest Parent In 'Many Saints of Newark' Isn't Tony Soprano
We finally get to see the beginnings of the show's most terrifying villain.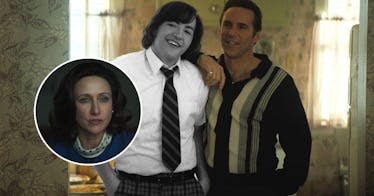 Warner Bros. Pictures
The Many Saints of Newark is one of the most anticipated movies of the year, as Sopranos' fans are losing their minds at getting a glimpse of the early days of television's most iconic antihero on the big screen. But while seeing a young Tony Soprano (played by the late James Gandolfini's son Michael) is exciting, the origin story that we're most excited about is Tony's mom Livia, the worst parent and best villain in the history of television.
With two trailers released so far, we've only gotten a couple of brief glimpses of a young Livia (Vera Farmiga) but for fans of the original series, her limited presence looms large. Phil Leotardo, Richie Aprile, and the feds never held a candle to Tony's dear old mom when it came to terrifying antagonists.
The cruel, abusive matriarch undermined her son every chance she could, even manipulating Junior into a botched assassination attempt against Tony. And the only reason she didn't continue to be Tony's one true nemesis is that Nancy Marchland, who played Livia, passed away in 2000.
But now, Livia is set to return and it will be fascinating to watch her at the height of her powers as Tony begins to enter the world of crime. It's no secret that much of Tony's self-loathing, distrust of others, and sociopathic tendencies were instilled in him by Livia, so hopefully, we get a chance to see some of her toxic parenting skills in action in Many Saints.
And Fermiga feels like to perfect actress to play Livia, as she has a history of bringing legendary parents to life. She received rave reviews for her portrayal of Norma Bates in the Psycho prequel series Bates Hotel, even receiving an Emmy nomination for Best Lead Actress in a Drama Series in 2013. We can't wait to see what she does with another mother who created a monster through terrible parenting.
The Many Saints of Newark will be available to watch in theaters and to stream on HBO Max October 1.