'Little Mermaid' Voice Jodi Benson Rejects the Feminist Complaint
Jodi Benson is the voice of the Little Mermaid. And, yes, she's seen the complaints. But she's not buying it -- and that's not because she doesn't want to empower little girls.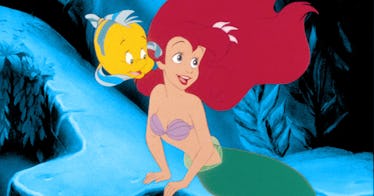 In the 1989 animated Disney classic, The Little Mermaid, the eponymous flippered dreamer, Ariel, wants to be part of the human world so badly she sings about it. A lot. She wants to "be where the people are" and wants to see us "dancing." But, lately, the feminist critique of Ariel's song — and the entire story — is that in the end, that dream manifests itself in marriage to a man. The mermaid gets her legs, but does she lose her agency?
In real life, the woman who has voiced Ariel for exactly 30 years — Jodi Benson — doesn't care if you want to be a part of Ariel's world at all. In fact, it turns out Benson has very strong opinions about the beloved film and isn't convinced those who want to boycott the movie under feminist guises are being fair.
When I ask Benson about her feelings in the zeitgeist that The Little Mermaid might present bad role models for girls, she says "I've gotten this question a lot on this particular press tour," she explains with a cheerful, Ariel-esque laugh. "Believe me. I have opinions. But, let's remember we jumped from Sleeping Beauty to Ariel. We jumped from the 1960s to 1989. Where we were in '89 is not where we are in 2019." Still, Jodi Benson isn't going to come to your house and make you watch The Little Mermaid. She just wants you to think about what you're really doing when you boycott the movie.
"I guess if you're going to boycott Ariel, that's totally fine. Every parent has the right to choose what they want their children to see or not see," Benson tells me. "I know there are celebrities who have spoken out against the film, but yet, the films they are a part of, I would never have my kids watch. So, I think you have to think about the big picture."
Last year, Mindy Kaling famously said she would still let her daughter watch the movie, but that she found the film "problematic." Meanwhile, Keira Knightley said she won't let her kids watch The Little Mermaid OR Cinderella because the films present women as subservient to men. In fact, finding take-downs of The Little Mermaid is, in a sense, easier than finding people praising the movie. Ranker's Jessica L. Yarbrough has an article called "7 Ways The Little Mermaid Is Actually Sexist" while a 2016 article from The Washington Post posits a huge academic backlash against the film and several other "princess" films. Contemporary parents are so concerned about the possible subliminal sexist messages of Disney princesses that there are even self-help books like Devorah Blachor's A Feminist's Guide to Raising a Little Princess.
But Benson is keen to situate her work in historical context. The Little Mermaid is far more feminist than Cinderella or Sleeping Beauty. She calls Ariel "rebellious and strong" and considers the character "was a stepping stone." You don't get from the Prince-besotted scullery maid to the Chinese soldier or Scottish archer without swimming through Denmark's shallows. "There's a progression," she says.
Prior to 1989's Little Mermaid, Disney hadn't had a huge animated hit featuring a princess since Sleeping Beauty which was actually released in the year 1959. In between Sleeping Beauty and Mermaid, there were a few successful animated Disney films (Oliver and Company, The Great Mouse Detective) but the true Disney animation renaissance, at least in terms of creating a formula that translated into huge box office returns, began with The Little Mermaid. At the time of her casting, Benson was a stage actress, who had worked closely with Howard Ashman, a songwriter, and composer who collaborated with Alan Menken on the music to Mermaid and, two years later, Beauty and the Beast. "It certainly wasn't the path I imagined for myself," Benson tells me. "I thought I was going to be on Broadway. But, how can I complain? I have the best job."
As we talk, I realize that when Benson speaks about her work voicing everything from talking necklaces, to Kingdom Hearts, to an Ariel cameo in Ralph Breaks the Internet, she uses the pronoun "we" to refer to Disney. Far from creepy, it's actually kind of nice. Three decades after growing her mermaid tail, Benson still feels like she got lucky to be part of this world.
These days, every kid's favorite Disney song is either something from Moana or the massive hit "Let It Go" from Frozen. These are what Benson calls "I Want" songs because they show young girls singing about what they want, hoping their dreams come true. And, even if you hate The Little Mermaid, you don't get "Let It Go" without Ariel's "I Want" song; "Part of Your World."
Benson thinks that the reason why Ariels 'I Want' song, "Part of Your World," was such a massive hit is that it emerged naturally from the dialogue and the narrative. "I think the most important thing is to tell the story. The lyrics are monologues and they just happen to run out and turn into a song."
Does Benson have a favorite contemporary Disney song? She tells me she might, but that she's not sure she can really choose.
"I love all our Disney princesses," she tells me. "I get to sing all their songs when I do concerts. It would be very hard for me to pick a favorite new song. The 'I want' songs are the ones I connect to the most. Those are the ones that matter."
The Little Mermaid, featuring Jodi Benson's iconic performance as Ariel, has just been released for digital purchase this week. It will be out in a new Blu-ray and DVD on February 26.
This article was originally published on