Watch This Young Boy Demand an Apology From Vice President Pence
The young boy was determined to get his apology.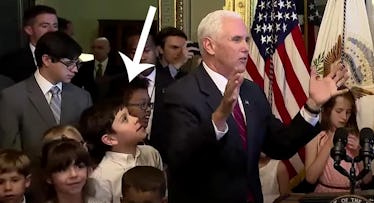 Last Tuesday, Vice President Mike Pence was speaking to military families at the White House as part of National Military Spouse Appreciation Day when he extended his arm and accidentally smacked a little boy in the face. The boy was obviously taken aback by the unintentional bonk and, after regaining his composure, politely hounded the Vice President for an apology.
Pence was unaware of his mistake and, after his remarks, proceeded to shake some hand and speak to those in attendance. But this didn't stop our determined hero. The boy shadowed the Vice President, waiting patiently and uttering polite "excuse me's" until he was acknowledged. When Pence finally does see him, the boy says, bluntly, "You owe me an apology."
Let's hope this kid considers a future in politics. He's remarkably poised but also extremely persistent, never backing down from getting what he felt he deserved. And, refreshingly, he doesn't appear to hold a grudge. Once Pence was made aware of his actions, he quickly apologized to the kid, who graciously accepted the apology and moved on.
This article was originally published on