Ludacris Hopes KidNation Will Help Parents With "Difficult Conversations"
The musician and actor just released a new song with KidNation called "Get Along." Listen to it here.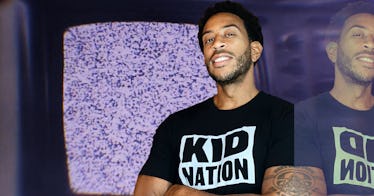 Kid Nation
For parents who were in high school in the '90s or who have loved the Fast and Furious movies, Chris "Ludacris" Bridges is an icon. A rapper, an actor, and a father, Ludacris is a million times cooler than most of us will ever hope to be, and these days, he's also focused on the most important thing in the lives of parents: our kids.
Ludacris — a father of three – has helped create an Atlanta-based emerging kids' media platform called KidNation. To date, KidNation has released songs and music videos about washing your hands to stay safe from COVD-19, but now, Ludacris has created a song with KidNation called "Get Along," and released it early in response to the waves of protest demanding that the U.S. collectively do something about police brutality and systemic racism. Fatherly spoke to Ludacris about how the new video was created, and why he thinks this specific message of tolerance is important.
First up, here's a quick preview of the song. You can watch the whole thing at KidNation.
How did "Get Along" get made and recorded?
The song was written and recorded in Atlanta. We actually wrote it and shot part of the video over a year ago, which goes to show you how this message is timeless and needed today more than ever. We have a phenomenal creative music team. We work with kids and research topics that matter to them and facilitate getting their voices heard. We were inspired by what the children had to say. Kids are still impressionable and we want to create good examples for the future generation. Kids at the core are very innocent. They are very honest, I feel like we have so much more to learn from them.
Any advice for parents navigating through everything that's going on in the world and preventing prejudice?
We think it is important to raise kids to be loving and without racial prejudice. You teach kids this by celebrating differences, being open, setting an example in our own behavior that they can follow. Sometimes having difficult conversations when you see something that can be improved in behavior or beliefs. I think parents know what their kids will respond best to, and if they lead with love, empathy, and understanding it will guide them on what to say.
Why is it important to have a song like "Get Along" right now?
It's very clear that the world and particularly parents are going through a difficult time right now. How do they explain to their children who are asking hard but honest questions about what's going on? We wanted to help answer that. This is a powerful piece of content that speaks to both the child and their parents but from the child's perspective. We released this early to help give kids an outlet to express themselves and touch on this heavy topic in a gentle manner while inspiring people to see things through their eyes inspiring more love in the world.
What kind of responses do you hope this message will bring?
I hope to see it bring awareness that truly transcends into changes. Change integrated into the way we treat each other, the education system, the justice system, and to improve the disparities and create more opportunities for those who are often overlooked due to prejudice. It is a learning process, I myself am learning as well how to best utilize my voice and contributions to make a difference. My current focus is on working with parents and the future leaders of the world through KidNation. I believe if we can influence our youth to be better than the world will truly be a better place.
How can all dads be better during these uncertain times?
By talking to your children, they see and hear more than you think. Open up the dialogue between you and your kids. As Dads we are their protectors; let them be heard and give them the time they deserve.
What's next for KidsNation?
This is just a sneak peek, we have so much in the works and this is really an amazing platform and opportunity to inspire and teach kids through entertainment in a meaningful way.
This article was originally published on