LeVar Burton Wants You To Read These Three Banned Books — Now!
"That's where the good stuff is."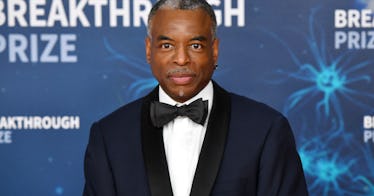 Ian Tuttle/Getty Images for Breakthrough Prize
LeVar Burton had a clear message for kids who have been hearing about "banned books." The education and reding advocate visited The Daily Show With Trevor Noah recently and told kids to go out and read the books that have recently been targeted by conservative school boards and lawmakers across the country.
In the clip, LeVar joins Trevor as they discuss books that have been banned and other titles that are being challenged. The two pay particular attention to the books that school boards, parents, and conservatives say are not appropriate for children – despite being children's books.
LeVar then chooses three of the books in question to read. Well, he tries.
Rosa by Nikki Giovanni
Rosa, and it's the story of Rosa Parks," LeVar says. Before he can open the pages and get into the story, the video turns static and the messages "please stand by" and "content violation," show on the screen.
"So, as it turns out, that book is banned because reading about segregation is divisive," LeVar says when he come back on screen. "Almost any book with Black people these days is considered divisive."
And Tango Makes Three by Justin Richardson and Peter Parnell
Tango Makes Three to read, a picture book about two guy penguins who start a family together. LeVar mentions that this book should be no problem to read because "it doesn't have any people in it at all," but seconds later the video turns static again, and "content violation," message returns because "both penguins are boys."
"Well, I'm told that that book is also banned because of sexual perversion, which is weird because there's no sex in the book at all," LeVar shares. "They adopted the baby. What do you want? A mommy and a daddy penguin so the kids can make sure the penguins are knocking boots?"
Hop on Pop by Dr. Seuss
The final book LeVar tries to read on the show is Hop on Pop, a Dr. Seuss book that shows kids playing with their dad in the author's signature repetition, but that was vetoed, too. "What?" LeVar says. "Disrespectful to parents? You got to be kidding me!"
This article was originally published on