Here's Why LeVar Burton's Second 'Jeopardy!' Night Was So Different
His wife's advice made all the difference.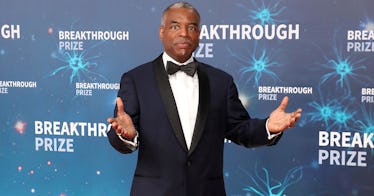 GETTY
"I just went out there and tried to bring as much LeVar to the moment as I could." So said LeVar Burton, speaking to Good Morning America about finally, at long last, guest-hosting Jeopardy! The fans demanded it, with more than 200,000 signing a petition to make it so. Burton – the star of Roots and Star Trek: The Next Generation, as well as a host of the seminal, award-winning program Reading Rainbow and the current podcast, LeVar Burton Reads – wanted the gig, too. Back in September 2020, he tweeted, "Not gonna lie, I feel like I've been preparing my whole life to occupy the Jeopardy! podium when Alex Trebek retires." Of course, Trebek succumbed to cancer that November, and after his final episodes aired around the holidays, guest hosts have been filling his slot, essentially auditioning to serve as the new permanent host.
Burton made his debut on July 26, and if he exhibited any nerves or stiffness on his first night, all of that evaporated on the second night. And it's all because his wife Stephanie told him to loosen up.
"I came back after taping the first episode and said, 'So, how did I do?' and she said, 'Ehhh. It wasn't you.'" Burton told GMA. "Thank God for marrying a woman that will tell you the truth…" His mistake was trying too hard to be Trebek-like, at least at first. "Of course, I realized right away that was an impossibility. The man had 37 years to perfect his mastery," he said. "So, after I got the heads up from Steph, I just went out there and tried to bring as much LeVar to the moment as I possibly could, and I'm hoping that worked out better."
While some fans commented that Burton seemed stiff on the first night, by night 2, his jitters seem to have evaporated.
It remains to be seen if Burton will become the permanent host. Even if it doesn't happen, the future looks bright. "If I don't get it, I'll be fine," Burton recently told Esquire. "My life will go on."
Burton will guest host Jeopardy! through to Friday, July, 30.