LeVar Burton Shares Petition To Become the Next 'Jeopardy!' Host
The internet is determined to make this happen.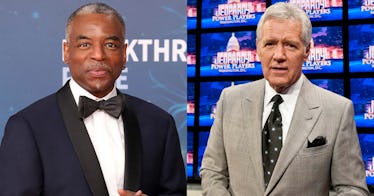 Getty
The internet can be a grim place but it can also be a place for people to come together for a good cause, like demanding that LeVar Burton be the next guest host on Jeopardy!. An online petition requesting the beloved actor to get a shot at the guest host spot was even retweeted by Burton himself, indicating that he would be more than willing to take on the role if it is offered to him.
"Leaving this here in the event that the powers that be are listening," Burton tweeted with a link to the petition, which has received over 137,000 online signatures so far.
The petition notes that Burton has plenty of experience with hosting, as he was the host of Reading Rainbow for more than two decades. It also noted that he "has inspired and shaped the minds of several generations of trivia-loving nerds."
"This petition is to show Sony Pictures Entertainment Inc. and producers Mike Richards and Harry Friedman just how much love the public has for Burton, and how much we'd all love to see him as the next host of Jeopardy!," The petition reads.
Burton's tweet received massive support from fans, with more than 26,000 likes and nearly 7,000 retweets in less than 24 hours. One fan said that Burton would be "such a joy" as the host and another commented that he would be "such a natural."
But that's not all who Levar might have support from — according to Eric Marrapodi, an NPR reporter, the Executive Producer says that he's talked to Levar Burton about the Jeopardy! the role, though he went into no specifics about how the conversation itself went.
Since Alex Trebek's death last year, Jeopardy! has had a number of guest hosts fill in rather than naming a permanent new host of the popular trivia game show, including legendary contestant Ken Jennings, who many consider the favorite to replace Trebek. Packers quarterback Aaron Rodgers' stint as host debuted last night.
Will the power of the internet be enough to earn Burton a shot as host? Only time will tell.
This article was originally published on