'Legends of the Hidden Temple' Is Getting Rebooted For Adults Only
You can now live out your 90's fantasy of being a contestant on the most popular competition show for kids back in your day.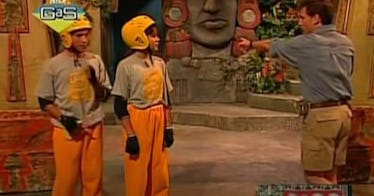 Millennials may not have homes or savings but what we lack in assets, we make up for in beloved shows from our childhood getting rebooted. And a new one is coming that is sure to make your inner 90s kid jump for joy.
The CW announced on Tuesday that a "supersized, adult version" of Legends of the Hidden Temple is currently in development and will retain much of the original DNA of the original series while also adding a few new wrinkles. Here is what we know so far.
In case you didn't see the original Legends of the Hidden Temple when it aired, it was an action-adventure competition game show on Nickelodeon from 1993 to 1995 that featured kids competing in three rounds of mental and physical tasks, including swimming, trivia, and the legendary Temple Run.
While the original show was aimed at kids, the new series' target audience is young adults, as the CW wants to appeal to millennial viewers who grew up watching the show. With that in mind, the new show will be featuring some minor tweaks.
One of the funniest (or most infuriating, depending on who you asked) parts of the original series was that most of the kids were absolutely terrible contestants who often failed miserably at any given task. To remedy that, the new series will feature adult contestants instead, who will presumably fare better than their youthful predecessors. The network announcement promised this change would allow for "tougher challenges and much bigger prizes on the line."
The other major change is that the new series will actually take place in the jungle, instead of a set that was made to look like an awesome high school production of an Indiana Jones movie. Other than that, it sounds like the core of what people loved about the original show will remain: contestants competing in adventurous tasks in order to retrieve a lost treasure from the titular hidden temple.
The reboot was originally set to air on Quibi (RIP) before it was revived by the CW. Given that its existence was just announced, it comes as no surprise that there is currently no news on when Legends of the Hidden Temple will premiere.