Leaked 'Love and Thunder' Photos Prove Thor Is Living-Up To His 'Avengers' Nickname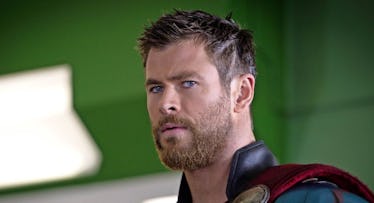 Marvel
Thor is looking '90s AF right now. After joining the Guardians of the Galaxy at the end of Avengers: Endgame, the God of Thunder is apparently taking fashion-cues from Star-Lord himself. New set-photos have hit Twitter from Thor: Love and Thunder and it looks like Thor has fully embarrassed his '90s nickname, gifted to him by Tony Stark, "Point Break."
In the newly leaked photos, Chris Hemsworth and Chris Pratt can be seen palling around on the set of Thor 4, which, you know, Natalie Portman is also in, and, is poised to swing Thor's hammer. These photos show Star-Lord rocking a fairly familiar Star-Lordy outfit (with some new trimmings) but Thor's long hair is back, and his outfit is, let's just say, totally worthy of an '80s hunk.
Back in the first Avengers, Tony Stark (Robert Downey Jr.) nicknamed Thor "Point Break," in reference to the 1991 film of the same name starring Patrick Swayze and Keanu Reeves. In case you're not a fellow old like me, the reason Tony used this nickname is that Swayze's character had kind of Thor thing going on: You know, longish blonde hair, stubble, and general badassery. Swayze also rocked a sleeveless top in Point Break, and now, it looks like Thor will do the same.
Thor's new outfit is basically like if Patrick Swayze from Point Break combined his wardrobe with any of the New Kids on the Block or Vanilla Ice on an off day. In other words, Thor: Love and Thunder is going to be amazing for '90s dads.
The movie is filming now, and as of now has a release date of February 2022.
Also, hell yes, the original 1991 Point Break is streaming on HBO Max right now.
This article was originally published on