Laura Dern Is Taking On the Vape Industry To Save Our Kids
Our favorite 'Jurassic' hero talks raising teenagers and how her kids "are teaching" her.
by Donna Freydkin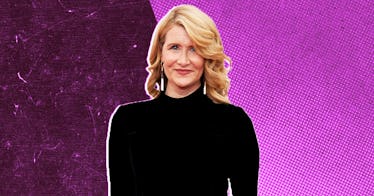 GETTY
In Jurassic Park, Laura Dern's character imagined a scenario in which "dinosaur eats man, women inherit the Earth." In real life, Dern is not Ellie Sattler, but she is precisely as awesome in person as you'd expect. She netted a long-overdue Oscar for her brash, no-bullshit turn as divorce lawyer Nora Fanshaw in A Marriage Story. In Big Little Lies, in a cast brimming with A-list names, Dern swiped every single scene she was in as Renata Klein, who makes your average helicopter parent seem like they're on anti-anxiety meds.
She's also an enthusiastic home cook (lemon sole or paella, anyone?), an endearingly dedicated dog owner, and now, the spokesperson for the American Lung Association's Vape-Free Schools Initiative, raising money to give schools access to the American Lung Association's vaping intervention and cessation programs.
Dern talks to Fatherly about raising teens, looking her age, and why stopping vaping is a cause worthy of her time.
Laura! I think I last spoke to you for Wild — which is wild.
Fairly crazy that it was Wild and, and very on point because I speak about that connection as a great influence on why I do my work with the American Lung Association.
Awesome segue, my friend. And all jokes aside, I know that middle schoolers are vaping now.
A parent was asking, is it time to start talking to kids about this when they're entering high school. And per my children, if you haven't brought it up at the end of elementary school, you're too late. Adults in the same household are vaping. They believed it was the safe way to stop smoking and the safer option.
I cannot believe you have two teens: Your son is 19 and your daughter is 15. Mind-blowing. How much do they impact the work that you do?
It deeply impacts me. So my kids, from their experience, they're teaching me.
Real talk, Laura. What's it like having teenagers?
You noticed, I paused. It's amazing. It's exhausting, it's exhilarating. They will be your deepest teacher of your life at this phase in their life. And you will be confronted with your true self, whether you're acknowledging it or not,
Meaning they don't tell you what you want to hear.
They do not. They definitely do not, but they also give you the opportunity to become a better listener, because suddenly instead of you telling you everything, they bury the lead, and suddenly within a story is the thing they want you to hear. And so it's an amazing and completely different phase of parenting and adulthood for parents.
What is the most important lesson you want your daughter to take away from you?
I want her to learn from me how to stand up for your voice, how to advocate for others, how to find your passion and, and follow it with everything. How to be unafraid of the word ambition, to be unafraid, to educate yourself as a woman about money. And I want her to learn what not to do from me, by being afraid of all of those things and taking longer than was necessary to learn how to do those things for myself and advocate for myself.
Can you pinpoint the moment where you learned to advocate for yourself?
I'm still learning. I'm still learning now. I would say definitely in the last several years, for sure. In work, I was better at it because I trusted my instincts. When you're a person who learned your skill or your job, sometimes you trust yourself more in that area than you might in life and interpersonal relationships.
On a somewhat lighter note, how is your dog doing with the cone?
She burped yesterday for the first time and my son filmed it. I had to put that on Instagram because it's the funniest, cutest thing I've ever seen. She's out of her cone. She's very happy.
And speaking of Instagram, I love how you're perfectly imperfect. You don't filter your photos, you show yourself as you are. Why is that important to you?
Well, it's the truth and I'm an actor. And I feel like that's my job. That's my vocation. It doesn't make sense to not honor that. I'm proud of representing who I am, where I'm at, how I'm learning to take care of myself.
And to my own daughter, I remember when I first learned about airbrushing with magazines. I realized I've been pining to have a body that doesn't exist. No wonder I'm so hard on myself. I think the more we can be filter-less emotionally and in our truth, the better off we're going to be.
Lady, you're a fox. It's so rare to see people our age who actually have laugh lines.
I know and oh my God. My friends who are beautiful directors have also been great champions and they say they will kill me if I ever do face work. Who's going to play the 60-year-olds? Seriously, my mom's in her eighties now and gorgeous and acting, playing women her age, and we need storytellers.
Speaking of storytellers: Big Little Lies. Is Renata ever coming back after booting her husband? Please say you have a script in your hands.
Well, I don't have those things, but I think you could be helpful by spreading the word that people want her back. Because I would love that. I love playing her and this group of girls that have all become family are very eager to spend gorgeous time together and be creative together. So it would be a dream.
And I want to see Renata as a single mom, just like killing it, you know?
Renata, single-momming it. Oh my God. I love it. Amazing.
Jurassic World: Dominion opens June 10, 2022.