Korn's 12-year-old Bassist Has Another, Better Band
Korn's new bass player is a 12-year-old who's already in a better band.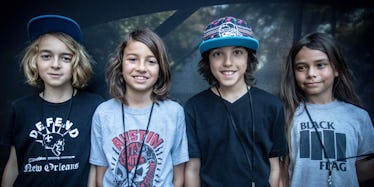 Facebook / Robert Trujillo
Every kid dreams of rock stardom, but Tye Trujillo, the 12-year-old son of Metallica's bass player Robert Trujillo, is about to live it. The younger Trujillo was just announced as Korn's fill-in bass player for the band's current tour (which should be surprising news in its own right). The only issue? His other band, The Helmets, is infinitely better than Korn.
The Helmets are comprised of four talented 12-year-olds from California who rock harder than bands twice their age. They've performed at various festivals like Lollapalooza's Kidsapalooza stage, and if you're near Napa Valley this Memorial Day weekend you can catch these hardcore kids at the Bottlerock Fest.
Meanwhile, Korn is still kicking around in faded JNCOs and playing hits from the late '90s nu-metal scene. They're touring South America throughout April and bringing along Trujillo strictly for the month, as reported on their Facebook page. How will a 12-year-old get along with a bunch of 40-something former-MTV staples? Hopefully, they have a PS4 on the tour bus.
This article was originally published on