You Have to Hear This Killers + Bruce Springsteen Track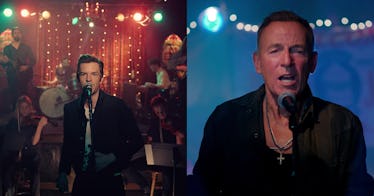 Bruce Springsteen and the Killers have teamed up and released a new single titled 'Dustland' that is so good it will make you wish that the Boss and the Nevada-based band joined forces to release a badass rock and roll album together.
'Dustland' is technically a new song but also, it's really more of a cover that happens to include the original band. 'A Dustland Fairytale' is a track from the Killers' 2008 album 'Day & Age.' It's one of the band's best songs to date and apparently captured the attention of Springsteen, who told Flowers he wanted to record a version of the song with the band.
According to Flowers, Springsteen reached out to him after seeing the Killers' 2019 performance at Glastonbury, texting the band's frontman that the Killers had become "one hellacious live band" and telling him that "we gotta do Dustland one day." At first, Flowers did not believe that the text was actually from one of the most iconic musical artists in the world.
"I google the area code," Flowers explained. "It's from Freehold, New Jersey, and I'm still not convinced. I text Evan (Bruce and Patti's son who has become a buddy of mine) and get verification that the number really is coming from his old man."
Once he had confirmed it was actually Springsteen texting him, Flowers quickly agreed but the pandemic delayed the collaboration. Now, the song has finally been released, with the new version of the song featuring the two singers trading off lines before finally coming together to deliver a beautiful new rendition that feels entirely its own.
Springsteen's interest in 'Dustland Fairytale' makes total sense, as the song has all of the ingredients of a classic track by The Boss. Flowers wrote the song about his mom ("Cinderella in a party dress") and dad ("slick chrome American prince") falling in love and the lyrics are stuffed with gritty, poetic turns of phrase that are a perfect fit for Springsteen.