Drinking Lunch With the Slime-Crazed, Sugar-High Stars of KIDZ BOP
Freddy is a beautiful dancer and his features are so parsimoniously wrought he looks like an animated Disney character.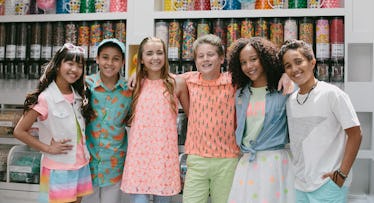 Photo by Levi Walton for Fatherly
They arrived right on time, a blur of day-glo clothing and broad smiles emerging from a black SUV. Leaping across the cobblestones, the six children of KIDZ BOP pulled open the glass doors of a restaurant / nightclub / candy store called Sugar Factory in New York City's Meatpacking District. Behind them in one mass of mommy arms and mommy legs were their mommies. The party was rounded out by Louis Yaroshefsky, a frizzle-haired legally mandated child labor welfare worker and teacher who travels with the kids on tour, and Jackie Turner, PR manager of KIDZ BOP brand. A nice lady named Alyssa Rella, who does PR for Kidz Bop and serves as their fixer, was already waiting at the bar.
First into the door was Freddy Pome'e. At 13, Freddy is the eldest of the KIDZ BOP kids who range from 10 to 13 and, if both interpersonal dynamics and music videos are to be believed, by far the most dominant of the group. In camera angles tilted for maximum awesome, it's usually Freddy in the center. He's a beautiful dancer and his features are so parsimoniously wrought he looks like an animated Disney character. Freddy wore a teal short-sleeved button-up adorned with slices of watermelon, a matching teal baseball cap and shorts. Excitement buzzed off this kid like a Van der Graaf generator. He stared at the columns full of bright hard candies, at the framed photographs of celebrities like Drake and Rihanna, holding oversized lollipops, trying to look intimidating and sexy, respectively. "This is going to be the best time ever!" Freddy said, his eyes going wide like eggs.
Later, I realized that this was also the title of both the KIDZ BOP Bonus track on KIDZ BOP 35 and the current KIDZ BOP tour, but, at the time, it seemed touchingly enthusiastic. It still seems touchingly enthusiastic.
The music was loud at Sugar Factory and management wouldn't turn it down, which was just as well. Before they even sat down, the KIDZ BOP kids broke out into a beautifully rendered and expertly arranged version of the iSpy, by Kyle featuring Lil Yachty. Their angelic voices flew in tight formation like a fleet of high-pitched fighter jets. "You ain't no angel either," they sang, "you can't even fly." Ahnya O'Riordan, a 13 year old girl from Reading, PA, hit, "I don't even know." Then all the kids joined back in with, "All the things that are coming at me, I wonder who throws it."
The original version of the song, released in late 2016, features the chorus, "I spy with my little eye / a girlie I can get 'cos she doesn't have too many likes / a curly headed cutie I can turn into my wife / wait that means forever, ever / hold up , never mind." But as the children sang, they expertly obfuscate the adult themes, leaving only playfulness and a catchy tune.
Like nearly every damn thing about KIDZ BOP, their rendition of the song operates on two levels. It is spontaneous but was clearly rehearsed. It is, in its original state, a wonderful song about fucking but, extruded through the mouths of babes, retroactively innocenced. It might be on KIDZ BOP 36 which, like KIDZ BOP 35, 34, 33 and so on back to the original KIDZ BOP album of 2001, will almost certainly be a best-seller when it is released this October. The impromptu performance is a microcosm of the weirdly paradoxical Kidz Bop universe and those within it. It is a contrived irreality built with genuine exuberance by children.
There are six official Kidz Bop kids, but only four perform on any given night. Having started in October, this group is in the beginning of their three-year engagement, after which they will age out of Kidz Bopping and be executed in the shadow of the Hollywood sign. [Kidding?] They have been rehearsing since October and, for the last four months, have been touring without respite. They will continue to do so through November. Tomorrow, for instance, they'll perform in Syracuse, followed by Atlantic City and, on Sunday in Coney Island. "I can't wait to ride the Cyclone!" says Freddy, "it's gonna be lit."
The singing was interrupted by a woman in a tube top and very short shorts. "I'm a teacher and my students love y'all," she announced. "They watch all of your videos. They know all your dances." She requested a photo and, gamely, the kids said sure, positioning their bodies into yet another tight knit formation.
Yaroshefsky took the camera phone and became, momentarily, a photographer. She was a substitute for the group's usual tutor drawn from a Los Angeles-based organization called Studio Teachers, who had recently won the Price is Right and was on her vacation. Yaroshefsky said, "Ready kids?" But they were already smiling. The kids are pros.
The menu at Sugar Factory is thirty eight pages long. Nine of these pages are devoted to Goblets, 60 oz. glasses the size of a fishbowl filled with various spirits and candies like the Ocean Blue (Hpnotiq and gummy sharks) and the Energy Bear (watermelon vodka, Red Bull, gummy bears). Eight pages are martinis, eight pages are food; two are celebrity photographs; three pages are milkshakes with two of those pages devoted to "INSANE SHAKES," which include the Twinkie Dinkie Milkshake (Vanilla Ice Cream with Twinkie Pieces served in a mug covered in White Chocolate with Gum Balls then topped with Marshmallow Fluff, Rainbow Rock Candy, Whipped Cream, Sprinkles and a Twinkie) and the Bacon Cheeseburger Milkshake (Strawberry Ice Cream drizzled with Strawberry Sauce and topped with Whipped Cream, a Mini Cheeseburger, Candy Bacon Strip, Pretzels and M&Ms® in a Chocolate Covered Mug with Pretzel Pieces and M&Ms® candy). Both are $18.
Though it was just after noon, Sugar Factory, which was owned by Vegas nightlife impresario Steven Davidovici until he was convicted of tax evasion and transferred ownership to his wife, was full of adults releasing their sheets to the wind. Obscured by the sweetness and shrouded in smoke from dry ice, the Goblets are potent. Almost nobody had ordered lunch which, after having ordered lunch, I understood. The kitchen seems to put as much effort into the savory food as one might expect at a place called Sugar Factory. That is, zero fucks were given. But, after arising early for an appearance on PIX11, the children were hungry. Freddy ordered a virgin strawberry daiquiri and chicken fingers; Isaiah Morgan, the youngest Kidz Bopper, who clearly looks up to Freddy, ordered a strawberry daiquiri too and a bacon burger and a bacon cheeseburger milkshake; Cooper Hounshell, a 13-year-old from Kentucky who wore yellow-shaded sunglasses that matched his spiky bleached hair ordered a club sandwich, a Ocean Blue goblet and a water; Ahnya, the most prepossessed of the children, ordered chicken and waffles — "I love chicken!" — and an apple juice; while both Julianna Revilla and Sierra Brogmus ordered the "steak classique" with a side of mashed potatoes. "I love steak," said Sierra, "as long as it's medium rare." They also ordered a couple insane milkshakes for later.
"Ooh," said Sierra, "Mine is going to melt. I'm going to take so many pictures of it!"
As the children waited for their lunches to arrive, they happily chatted about life on the road. When they're not on stage, the children of KIDZ BOP chill on the KIDZ BOP tour bus. There they attend cyber-school and watch movies together and break into song at random though regular intervals.When asked what they watch they say, in unison, "Stranger Things, Super Girl and The Flash." They switch between the three of them. They are also joined by their mothers — "momagers," as Ahnya says — who are at Sugar Factory too and have ordered goblets of their own at a nearby table. Like social media Secret Service, these mothers stand ready to furnish their children with smartphones in order to better document the goblets when they arrive and to make Boomerangs where appropriate. (Each child has his or her own social media presence and are, to a boy and girl, adept at short simple repetitive movements optimal for Boomerang.)
It's a good thing Kidz Bop employs children; it is hard to imagine adults with sufficient stamina to keep up the performance. There's a reason adult musicians eating up road day after day often seek comfort at the bottom of a pill bottle. But youth is a natural stimulant and that these kids are holding.
Kidz Bop shows last approximately an hour and half and involve near constant motion. There is one fifteen minute long intermission during which the performers hydrate and relax by watching slime videos. As it turns out all of the Kidz Bop children are extremely interested in, and connoisseurs of, slime. "Look at this video!" says Cooper, showing me an Instagram wherein a woman kneads a ball of slime, her aqua nail polish matching the slightly iridescent unguent . Sierra, who is best friends with Julianna, informed me that the schloop sound of a finger being withdrawn from a quantum of slime is the indication of high quality product. They walk me through the various subgenres: cheese slime, fluffy slime, bubblegum slime, jiggly slime. Ahnya shows me a video of her and her sister making slime in their kitchen. "We wanted it to be red but it turned out pink." No matter. It was beautiful slime.
Over the stereo, Calvin Harris' song "Feels" comes on and, predictably, the kids know all of the words and nail all the parts. Then the milkshakes come, Isaiah's with a bacon cheeseburger atop it like an obscene meaty fedora and Julianna's with both a lollipop and a slice of cheesecake. Perchance predictably the kids freak the fuck out. Isaiah just keeps saying "oh my god oh my god oh my god." Julianna stares at her milkshake with awe and 110% smile. For a moment, these aren't photogenic simulacra of children, engineered for maximum fun, but real children, kids with dreams like Sierra's –"to be a performer, an actress, a costume designer, a scientist and a mathematician" — and cockamiemie kid inventions like Isaiah's — "Ok, it's a yoga mat that also hovers above the ground" — and tween tastes like Cooper's love of the Divergent series and brothers like Ahnya's who once shot her in the leg with a BB gun. But they are still working and when Ahnya begins to tell me that story, which seems like a good one, Alyssa, the PR woman, says jokingly but not jokingly at all, "That's not a good story. Let's not tell that one."
Ahnya stops talking, looks at her milkshake and happily inhales a spoon of sprinkle-studded whipped cream. Then Freddy takes a sip of his own insane milkshake and says, "This is the best time ever!" He takes an Instagram selfie with it, looks down at his phone and quickly shares the moment with his fans so they can have the best time ever too.
This article was originally published on