The Kid From 'The Kid Who Would Be King' Isn't Afraid of Swords (Or Books)
Louis Ashbourne Serkis is our reigning 14-year-old King Arthur. And he knows which Arthurian book your kids will love.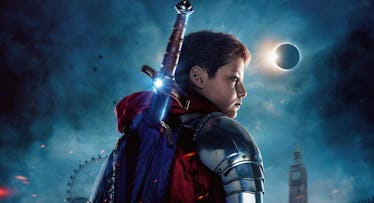 In kids' stories, the notion that a young person will realize they are destined for greatness and high adventure is perhaps the most powerful and alluring story ever told. From Star Wars to Harry Potter, children who are really secret royalty or saviors are a famous concept, but arguably, none of these stories would exist without the legend of King Arthur and images of swords being pulled out of stones. The latest heir to that story is the 14-year-old actor Louis Ashbourne Serkis. He plays Alex — the titular kid — in the film The Kid Who Would Be King; a contemporary retelling of the Arthurian legend set in the modern day.
Because Loius's dad is Andy Serkis (you know, the guy who played Gollum in Lord of the Rings and Ceasar in Planet of the Apes) and his mom is Lorraine Ashbourne, a stage actress, you might think this kid comes from acting royalty. And yet, Loius Serkis is 100 percent his own person. This guy may be the kid who would be king right now, but he's also a self- depreciating young man who is wise beyond his years.
Fatherly caught up with Serkis just as The Kid Who Would Be King hit home video. And he revealed not only why he's worn out from fighting with swords, but also which King Arthur book he thinks is ideal.
Did you feel like you had to do a bunch of homework for the part?
Like most people, I knew a bit about King Arthur – but mostly from the film. Then I read
Michael Morpurgo's Arthur, High King of Britain. Which was really good!
You're working with Patrick Stewart. Was that weird? Did you care?
We were all quite nervous about working with Sir Patrick, but actually, he was really normal and cool.
Tell me what every kid needs to know about holding a sword. Is it awesome? Is it NOT as
awesome as people think? Learning how to sword fight was awesome – I really loved rehearsing the fights but it was also really tiring. You've got to be really fit!
What do you like to read?
I read all sorts. My favorite book when I younger was Goodnight Mr. Tom – another great book from Morpurgo. I have to read George Orwell's 1984 — for school — but I'm actually really into it
How did you get into acting? Did your parents support it?
Acting started as a hobby, and not totally connected to my parents doing it. It after-school clubs, school plays and that sort of thing. I've been playing different characters from the age of nine, but It was a massive break to be cast as Alex in The Kid Who Would Be King. I know I was really lucky!
What would you say to kids who want to get into acting?
I would advise anyone that wants to act to get as much experience as possible. Join theatre groups and do plays. And if you can't do that you need to see plays and watch films.
What's the best movie (other than The Kid Who Would Be King!) for people your age?
I've watched Hunt For The Wilderpeople about ten times.
Pretend you're 30. The Kind Who Would Be King is getting remade. Are you down to do
a cameo?
I'd definitely come back and play a cameo if there was a remake. I'd serve Merlin the chicken shop.
The King Who Would Be King is out on now on home video. You can rent it on Amazon Prime, or purchase it on DVD, Blu-ray or 4K Ultra.