Kevin's 'Office' Chili Recipe Was Hidden in Peacock's User Agreement for a Whole Year
In this case, it pays to do your due diligence.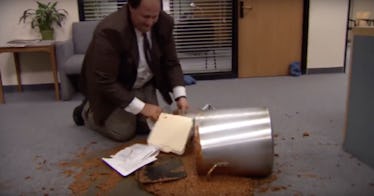 Peacock
No one reads any service's terms of use. They're long, drawn-out legal documents and we all know that we can't use the service if we don't just click "OK." However, if you have NBC's streaming app Peacock and you haven't read the terms of service, you missed an Easter egg that is so perfect we're going to share it with you anyway.
According to Daily Dot, the terms of service for using Peacock app rewarded people with a key to an iconic moment on The Office that still replays over and over in our heads. Remember when Kevin Malone spilled a pot of chili at the office and then tried – and failed – to clean it up? Yeah, the recipe for the chili is buried into the terms of service.
Deep in the pages of the legal agreement, users who read through it would find the full recipe including ingredients and detailed instructions on how to make chili. More specifically it's the recipe to Kevin's chili that he spilled all over the office. The recipe includes a secret tip on how to get the onions just right.
The secret recipe was discovered on TikTok in a now viral video by Mckenzie Floyd. "So, my boyfriend obviously reads the terms and conditions," she said. And now we get to reap the benefits of the one person who took the time to read through all the pages.
When Mashable reached out to Peacock for a comment on the findings in the terms of service, they said it was an effort among the whole team including product, creative, and legal teams. "As a company, Peacock thought it was important that all of our subscribers knew the importance of undercooking their onions when making chili, and of course our terms of use," the rep said.
Want the recipe? Here it is, as listed in the terms and services:
Ingredients
4 dried ancho chiles
2 Tbs neutral oil (vegetable, canola or grapeseed)
3 lbs ground beef (80/20 or 85/15 lean)
2 medium yellow onions, finely chopped
6 cloves garlic
1 large jalapeño, finely chopped
1 Tbs dried oregano
2 tsp ground cumin
¼ tsp cayenne pepper
2 Tbs tomato paste
2 12 oz. bottles of beer (lager or pale ale)
3 cans Pinto beans, drained and rinsed
3 cups beef stock
2 ½ cups chopped ripe tomatoes
2 Tbs kosher salt
Chopped scallions, shredded Jack cheese and sour cream for topping
Directions for 'The Office' chili recipe:
Tear ancho chiles into pieces, discarding seeds and stems. In a large heavy pot or Dutch oven, toast chiles over medium-high, stirring occasionally until very fragrant, 3 to 4 minutes. Transfer toasted ancho chiles to a food processor or spice mill and process until very finely ground. Set aside.
Add oil to pot and heat over medium-high. Add ground beef and cook, stirring occasionally to break beef into small pieces, until well browned (about 6 minutes). Using a slotted spoon, transfer beef to a plate and set aside.
Add onion to pot and cook briefly over medium-high until barely softened, about 2 minutes. The secret is to undercook the onions.
Using a garlic press, press garlic directly into the pot, 1 clove at a time. Then stir in jalapeños, oregano, cumin, cayenne pepper and tomato paste. Stir and cook until fragrant, about 2 minutes. Add beer and continue to cook, stirring and scraping the pan, about 7 minutes.
Meanwhile, put beans in a large bowl and mash briefly with a potato masher until broken up but not fully mashed.
Add mashed beans, stock, tomatoes, salt, and cooked beef to pot. Cover and bring to a simmer. Reduce heat to low to maintain simmer and cook 2 hours so everything gets to know each other in the pot. Remove from heat, uncover and let stand at least 1 hour (can also be refrigerated 8 hours or overnight).
Reheat gently, taste and add more salt if necessary, and serve with your favorite toppings. We recommend chopped scallions, shredded Jack cheese and sour cream.
Enjoy!