Kendrick Lamar's 'DUCKWORTH' is a Weird Dad Story
Lamar's dad met his mentor way before anybody got famous. It didn't go well.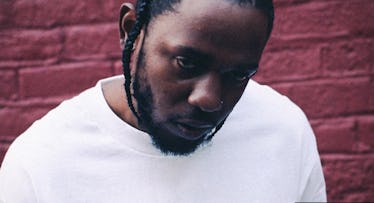 Kendrick Lamar dropped the album DAMN on streaming services just after midnight on Friday, right after the inevitable leak. The fourth studio album by the Compton native is a group effort that includes contributions from Rihanna, James Blake, Kaytranada, and, for whatever reason, U2. It also includes a very strange story about his father and his mentor that speaks to the delicate nature of family, fate, and California KFC franchises.
The 9th Wonder-produced song "DUCKWORTH" is more than a nod to the last name on Lamar's birth certificate. It tells the strange story of a chance encounter between his dad, Ducky, and the man who would later become Lamar's label boss, Anthony "Top Dawg" Tiffith. Back in the day, Ducky worked at the Kentucky Fried Chicken Anthony ducked into when dodging "crooked cops."
Eventually Tiffith robbed the KFC, but he didn't hurt Lamar's dad. As Kendrick points out, lyrically, Ducky's street smarts likely saved him. The KFC had been robbed before and a manager and customer had been shot. Since it wasn't much of a secret who did it, Ducky used his position to get on his good side by giving them free biscuits and chicken.
"Because if Anthony killed Ducky, Top Dawg could be servin' life, while I grew up without a father and die in a gunfight," the song concludes. The track prompts this question: How did Tiffith and Ducky get past the awkwardness of meeting in a recording studio 20 years after a holdup and did anyone bring a perfectly seasoned piece offering?
Kendrick doesn't get into the details on emotional resolution. He's more concerned with a broader query about how he came to be and facing down a reality all sons ultimately acknowledge. Family is a product of both what did happen and what didn't.
It's also a very good song.