Who Is Agnes in 'WandaVision'? Kathryn Hahn Is Laughing — But Not Telling
Being in a Marvel production was a 'bucket list' item for the 'Bad Moms' star.
by Donna Freydkin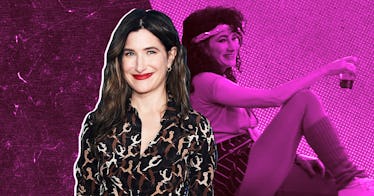 Kathryn Hahn is a national treasure and we'll fight anyone who argues otherwise. With her deftly impeccable comic timing, she both elevates and grounds every single project she's in, from the sex-crazed aesthetician in Bad Moms to the emotionally liberated divorcee in Mrs. Fletcher. In real life, she's pretty much as awesome as you'd imagine. So much so that Elizabeth Olsen, who plays Scarlet Witch to Hahn's mysterious next-door-neighbor Agnes in the Disney + series WandaVision, wishes she could "make a miniature version of her and just keep in a pocket and have her help me make decisions for the rest of my life."
"That is hilarious. Because I need some Lizzie Olsen on my shoulder all the time. So it goes right back. I miss her madly," says Hahn, in the midst of a media blitz promoting WandaVision. "I'm in LA in my garage. I keep asking everybody to stay off video games as long as you can for our, for our wifi purposes."
By day, Hahn is the meddling snoop who lives near Wanda (Olsen) and Vision (Paul Bettany), trash-talking her MIA husband while helping Wanda plan a seductive date night. Wanda and Vision, meanwhile, are undercover superheroes who live in a time-traveling, genre-hopping TV show. Confused yet? Honestly, the series isn't as insane as it sounds, and being part of that rarefied Marvel world was a revelation for Hahn.
"I never would've thought in a million years that I would have been in the MCU. It was a bucket list item," says Hahn.
Like most parents, she's seen all the Marvel movies with her two kids but lest you think starring in a spinoff has earned her points with her son and daughter, you're mistaken. "After a certain age, you can't think that your parent is cool. You have to go through that chapter. So maybe in private they do, but they're never going to let me see it and that's okay," says Hahn, already a pro at deflecting any questions that might lead to spoilers. And, as you read on, you'll see we really tried to get her to reveal some secrets.
You are playing a witch named Agatha Harkness, right? How does it feel?
I beg to differ! I'm the nosy neighbor in WandaVision. I was so mesmerized by the ambition, by the scale of the ambition of it. I had seen the MCU movies with my family, all those movies. I loved the chemistry between Paul and Lizzie. I always felt like it packed such an enormous emotional punch, seeing the two of them in these little teeny scenes.
Did you have a lot of leeway in developing Agnes?
I had a lot of freedom. We had a lot of source material in these original sitcoms. I'm sure Lizzie told you about this too, but we had a sit-com bootcamp, which was so awesome. We had a little rehearsal period, where we watched episodes that would inspire each decade. We also had an amazing dialect coach who gave us a ton of source material and etiquette books. Thank goodness we don't have to follow some of those rules anymore. it was really interesting time capsulate stuff.
When do we see your alter ego Agatha Harkness emerge — we know that's coming, right?
I don't know if you do — you have to wait and see.
Do we ever see Agnes' husband, whom she badmouths throughout the show?
I don't know.
Wow, you're good. What do you think the show says about relationships?
They're just superheroes and they're trying to fit in, in a town. It gets more and more clever, the lengths they go to disguise themselves, and it gets harder and harder. I think it's such a love story and it's about the power of family and the power of relationships. It's a love story. It's about loss and grief and forgiveness and all of it. Why I love Vision so much is that there's the irony of his deep humanity, being that he's not human — it's so beautiful to me. His kindness and his decency and his goodness.
Speaking of humanity, this has been a rough 12 months for just about everyone. How have you handled things?
I mean, there have been beautiful ups and awful, awful downs and all of it in between.
What keeps you optimistic?
My kids. Just seeing how motivated they are to change. I'm just very excited to see what these young brains will come up with. They've got our back as a planet and as a species.