Viral Tweet Reminds Us 'Bridge to Terabithia' Author is Still Writing Amazing Books
Katherine Paterson is far from a one-hit wonder as an author.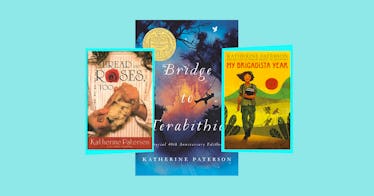 Clarion Books / HarperCollins / Candlewick Press
Katherin Paterson is best known for writing Bridge to Terabithia but a viral tweet is reminding people that the author has continued to write for nearly four decades after Terabithia's release in 1977. The tweet from Bécquer Seguín, an assistant professor of Iberian studies at Johns Hopkins University, points out the fact that Paterson is "now writing socialist YA novels about the 1912 IWW strike and Cuba's 1961 literacy campaign."
The two books Seguín is referring to are 2006's Bread and Roses, Too, which tells the story of a young girl in Lawrence, Massachusetts during the aftermath of the Lawrence Textile Strike (also known as the Bread and Roses Strike), and 2017's My Brigadista Year, which is about a teen girl in Cuba who volunteers for Fidel Castro's literacy campaign in the early 60s.
TerabithiaTerabithiadeathstorytelling