Popular Thor Actor Is Returning For 'WandaVision' But Not Thor 4?
Kat Dennings has crossed over to a different MCU series.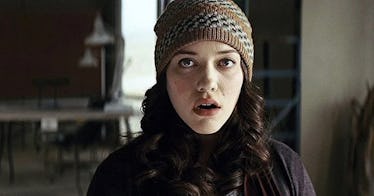 Disney/Marvel
Darcy Lewis fans, we've got some good news for you, and some bad news, too. The popular Marvel Cinematic Universe character, played by Kat Dennings in Thor and Thor: The Dark World, will appear in the upcoming series WandaVision, but likely won't turn up in the next Thor big-screen adventure, Thor: Love and Thunder. Thor introduced Lewis as Jane Foster's (Natalie Portman) friend/colleague/sidekick, who knows much more about political science than actual science and really wants to see Foster and Thor (Chris Hemsworth) live happily ever after.
Dennings, during a recent Zoom chat with Entertainment Weekly, revealed that viewers of WandaVision will see more of Lewis than anyone – the actress included – dared expect. In fact, the actress's comments made it clear that her participation will extend beyond a cameo or Easter egg. "It was a surprise to get the phone call," she explained. "I couldn't believe it, because the first Thor movie was 10, 11 years ago, or something like that. It was a surprise getting the phone call the first time saying I was going to be a part of this Marvel Universe… Like, I almost thought it was just going to be a scene or something (in WandaVision). I didn't realize what it was. It was just a delight, just a gift, and an exciting thing to do. I think anyone who liked Darcy from the movies will be… thrilled."WandaVision, which will reportedly debut later this year on Disney+, stars Elizabeth Olsen and Paul Bettany, who reprise their respective Avengers roles as Wanda/The Scarlet Witch and Vision (Paul Bettany). How will Lewis connect with Wanda and Vision? Dennings demurred. "I can't say it!" she noted. I'll say that I was thrilled, and it was somewhat of a surprise there, what they planned for her. Laaaaaaa. I can't say anything! You'll find out soon. It's coming out pretty soon."Sadly, however, it looks as if Dennings won't reunite with Portman and Hemsworth for Love and Thunder. The film will likely begin filming early next year with an eye toward February 11, 2022, release date. "Still no idea," the actress claimed. "I don't think I'm in it. I feel like I would have heard by now. So, literally, my answer is I have no idea. I have less of an idea than I did before."
This article was originally published on