Does 'John Wick: Chapter 3' Have a Post-Credits Scene?
Should you stick around after the credits or can you make a beeline for the exit as soon as the movie is over? (No spoilers!)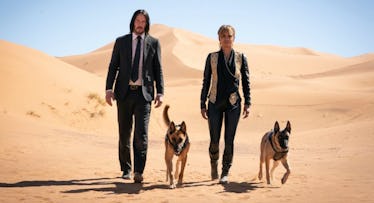 John Wick: Chapter 3 – Parabellum, starring Keanu Reeves, Halle Berry, and Ian McShane, comes to theaters this week, hoping to further bolster Reeves' resume as the greatest movie action star of all time. And once you have enjoyed 130 minutes of the titular assassin-turned-fugitive finding increasingly creative ways to kill his enemies, you will likely find yourself faced with one question: Is there a scene after the credits? After all, sitting around watching the credits roll can be a bore but it might be worth the wait if the movie ends up giving fans an Easter egg or hints at what the sequel might be about. So does John Wick: Chapter 3 – Parabellum have a post-credits scene you should stick around for?
Without giving away any plot details or spoiling anything about the movie, we will say that John Wick: Chapter 3 – Parabellum does not follow the recent blockbuster trend and, in a refreshing change of pace, does not feature a scene in the middle or the end of the credits. So while others stick around the theater to watch the credits and see if there will be a John Wick: Chapter 4 – Paralellagram, you're going to be able to immediately make a beeline for the exit.