John Mulaney Is Finally Going to Understand Dad Humor
The stand up comic is joining the dad club.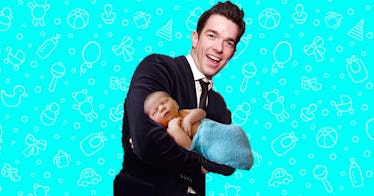 GETTY
John Mulaney, welcome to the dad club. While appearing on Late Night with Seth Meyers, the 39-year-old comedian announced that he and actress Olivia Munn would be having their first child together.
"I got into this relationship that's been really beautiful with someone incredible," he told Meyers. "And we're having a baby together."
Mulaney and Munn began dating this year, following Mulaney's divorce from his ex-wife Anne Marie Tendler, as well as him entering into rehab for drug abuse. It's been a whirlwind romance for the two, as they got together only a few months ago and are now entering the world of parenthood.
Mulaney seems like a guy who will wear fatherhood well. Despite not having kids, Mulaney always felt like a bit of a dad comic with his masterful storytelling ability and affinity for making strange yet profound observations about movies we all loved growing up, like Back to the Future and Willy Wonka and the Chocolate Factory.
Last year, the stand-up comedian even offered his thoughts on fatherhood when he hosted Saturday Night Live and gave a harsh and hilariously fair assessment of the state of dads; noting that fathers tend to be a lonely breed who have trouble making friends.
"My dad has no friends," Mulaney explained. "And your dad has no friends. And if you think your dad has friends, you're wrong. Your mom has friends, and they have husbands. Those are not your dad's friends."
He noted that by observing his own dad, he learned that "all of our dads are cramming for some World War II quiz show" and that, ultimately, "dads want to be alone." So as he prepares for fatherhood, we can assume Mulaney will be brushing up on his knowledge of the Battle of the Bulge and maybe even giving Band of Brothers a watch.
Bottom line, John Mulaney becoming a father will be great for him. But, for the rest of us, it seems like his comedy will only get better.