There May Never Be Another Spy Novelist Like John le Carre
A former Secret Intelligence Service operative who can write like this? Once in a lifetime.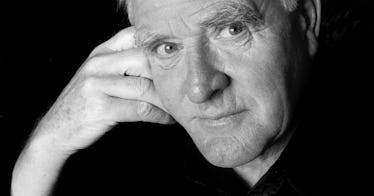 Getty
John le Carré is dead —or is he? It's a question the characters in his smart, refined novels would surely ask. Sadly, though, it's true. The prolific, award-winning British author – who was born David John Moore Cornwell – succumbed to pneumonia at the age of 89 on December 12. He leaves behind a remarkable legacy that includes more than two dozen bestselling books, numerous acclaimed shows and movies based on his works, millions of fans around the world, and, more personally, Jane, his wife of 45, four sons, 14 grandchildren, and 3 great-grandchildren.
Le Carre's career spanned parts of seven decades, from the 1960s to 2020. He wrote more than two dozen books, with 10 of them featuring his most popular character, George Smiley, an intelligence officer created as something of a far more realistic James Bond type. Smiley stood front and center in such Cold War cloak-and-dagger sagas as Call for the Dead, A Murder of Quality, Tinker Tailor Soldier Spy, The Honourable Schoolboy, and Smiley's People, and factored into The Spy Who Came in from the Cold, The Looking Glass War, The Secret Pilgrim, and A Legacy of Spies (his final Smiley installment, published in 2017). Le Carre's other books included The Little Drummer Girl, The Night Manager, The Tailor of Panama, The Constant Gardener, Our Kind of Traitor, and Agent Running in the Field, which was released in late 2019. The author knew of what he wrote. According to the British newspaper, The Guardian, he began working for the secret services while studying German in Switzerland at the end of the 1940s. "After teaching at Eton he joined the British Foreign Service as an intelligence officer, recruiting, running, and looking after spies behind the Iron Curtain from a back office at the MI5 building on London's Curzon Street," the paper noted in its tribute. "Inspired by his MI5 colleague, the novelist John Bingham, he began publishing thrillers under the pseudonym of John le Carré – despite his publisher's advice that he opts for two Anglo-Saxon monosyllables such as 'Chunk-Smith.'"In addition to his spy tales, Le Carre penned short stories, non-fiction, and screenplays, as well as a surprise memoir, The Pigeon Tunnel, published in 2016. Film and television adaptations inspired by his books include The Spy Who Came in from the Cold, The Deadly Affair, Smiley's People, The Russia House (starring, quite intriguingly, ex-James Bond actor Sean Connery), and The Constant Gardener. He also executive produced a number of films and miniseries based on his stories, including The Tailor of Panama (starring yet another former 007, Pierce Brosnan), Tinker Tailor Soldier Spy (with Alec Guinness as Smiley in a 1982 BBC miniseries and Gary Oldman as the character in a 2011 film adaptation), A Most Wanted Man, The Night Manager, Our Kind of Traitor, and The Little Drummer Girl, and made cameo appearances in most of those productions.
Not surprisingly, tributes to le Carre are pouring in from all across the world. Florence Pugh, who starred in the 2018 television version of The Little Drummer Girl, took to Instagram to share, "Just heard the news of the legend John le Carré's passing and my chest is heavy. I was lucky enough to meet this man, drink with this man AND work with this man! I still pinch myself about our friendship to this day. The first time we met we were in our last few days of filming 'Little Drummer Girl' in Prague and I was finally meeting the person who it all came from. THE John le Carré! I was so nervous. Obviously. I remember sitting down next to him at dinner and after a while of back and forth, realizing that we were both trying to figure each other out. Sizing one another up, testing and teasing each other constantly. Until I called him an old fart. I watched his eyes light up with glee and we both cackled until we cried. He peered at me over his glass and giggled, 'I think we're going to get along just fine.' We knew a magical friendship had arrived."The historian Simon Sebag Montefiore deemed le Carré "the titan of English literature up there with the greats… in person, captivating and so kind and generous to me and many others," while fellow author Stephen King called le Carré "a literary giant and a humanitarian spirit." And the author's longtime agent, Jonny Geller, in a statement, referred to his client as "an undisputed giant of English literature" who "defined the cold war era and fearlessly spoke truth to power in the decades that followed. I have lost a mentor, an inspiration, and most importantly, a friend. We will not see his like again."
The 2011 version of Tinker, Tailor, Soldier, Spy — starring Gary Oldman — is streaming now on Netflix.
This article was originally published on