Jimmy Kimmel on the Difference Between Being a Rich Dad and a Regular One
But you're still going to have to pay them an allowance.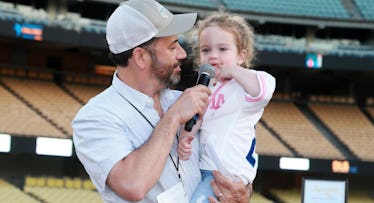 Jimmy Kimmel isn't afraid to talk about affordable healthcare, gun control, and now, how money makes being a father objectively easier — and not necessarily at the expense of spoiling a kid. Kimmel, who raised his first two children, Katie and Kevin, when he was a struggling radio DJ in his twenties, is now raising two more young children, Jane and Billy, as a household name. This has given the Jimmy Kimmel Live! host, now the official dad of late night, a unique perspective of what it's like to parent in America. No wonder he's talking about it so much.
"Raising kids with money is a tricky thing. You don't want to just hand them everything," Kimmel told David Marchese in a recent interview with New York Magazine, noting he's still not sure how to do that exactly. "I've concluded that pretending you don't have money is not the best way, because kids aren't stupid."
Kimmel added that he can't tell his kids that they aren't able to afford something in hopes of building character or getting them to leave him alone because they'll know it's bullshit. So Kimmel has to say no or yes. And, in order to normalize the situation, he has become a stickler for chores and a reasonable allowance. Ultimately, he hopes this will keep them from turning into the sort of wealthy children who get so used to flying on a private jet that they wonder why there are so many people on their plane when they fly commercial. (Though he points out that those sorts of stories always sound like urban legends.) This is a new challenge for Kimmel, but he's not out of touch with how much harder it used to be.
"Most of the pressure I felt with Katie came from me being a 25-year-old guy who had to keep the family afloat," he acknowledges.
While the late-night host is admittedly busier now (so is his partner Molly McNearney, co-head writer on his show), he has the help of a nanny which he didn't have before. But this doesn't mean Kimmel spends less time with his kids. He makes a point of spending at least five hours with them a day — two before work and three after work. But now, Kimmel has the luxury of quality time he didn't have raising kids with more limited resources. "I used to beg Katie to go to sleep, almost in tears, just so I could take a nap."
Synthesizing such competing yet complementary perspectives is a new feat for a guy whose political opinions are oddly yet subversively legitimized by the role he played on The Man Show. It's part of the duality that makes Jimmy Kimmel funny, interesting, and suddenly so relevant.
"A foie gras hot dog. That's me in a nutshell right there."