Jimmy Fallon's Kids Got Ready For Christmas By Getting Vaccinated
The late night host talks about taking "baby steps" to get his show running again.
by Donna Freydkin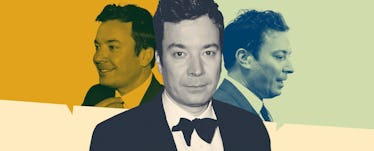 Getty/BDG
Jimmy Fallon, who's generally a laid-back dude in interviews, can find the funny in just about anything. Except the fraught, for some, issue of public health. He doesn't hedge when asked about vaccinating himself and his family against COVID-19.
"I'm vaccinated. Our kids are vaccinated. I'm getting the booster," he says, shaking his head. "There's nothing more you can say to people." (The editors of Fatherly, Scary Mommy, Romper, The Dad, agree. Check out our open letter to wait-and-see parents here.)
Fallon's daughters, Frannie, 6, and Winnie, 8, have a cameo in his latest venture. He's headlining Frito-Lay's holiday campaign, Share More Joy, and is starring in a commercial that debuts during the Macy's Thanksgiving Day Parade, featuring his rendition of It's The Most Wonderful Time of the Year.
Fallon unabashedly loves all things Christmas and applauds when, over Zoom, he sees a prematurely erected Christmas tree in this writer's living room: "It's about joy. What's wrong with joy? Gwen Stefani told me she wraps the living room in wrapping paper and we tried that. It was a disaster. They were confused and almost ran into the coffee table. So thank you, Gwen Stefani."
Growing up in suburban New York, "we didn't have a lot of money. And sometimes Santa forgot to take the price tags off of things," recalls Fallon. He and his wife give each other gifts throughout the year, so there's no wrapping paper explosion on Christmas. As far as the kids go: "We try not to go overboard but we want to make sure all the kids are happy and the cousins are happy."
That's mostly why his daughters are in the Frito-Lay commercial. "They got to see what my wife does — Nancy is a producer. So they got to see what her job is. I don't have actor kids but they were great. Frannie, the younger one, had to make sure her pigtails were even," says Fallon. "They don't have the bug. I'm not sure if I want them to have the bug."
He's talking about acting, as opposed to anything germy. After shooting sweetly messy episodes of The Tonight Show from his home, Fallon returned to the studio in July 2020. Recently he's had some amazing guests, including the three living original Ghostbusters, Bill Murray, Ernie Hudson, and Dan Aykroyd. If you missed it, it's charming as hell.
"The audience is in masks. Everyone is vaccinated," he says, noting that some guests get "really emotional" when they walk out and hear applause, " because for a lot of them it's the first time they've heard applause" since COVID-19 made in-person interactions a tricky thing. "We're taking baby steps."