Jim Carrey's New Show 'Kidding' Isn't Really a 'Mister Rogers' Spoof At All
The new Showtime series gets a few things wrong about kid's shows, but one thing right.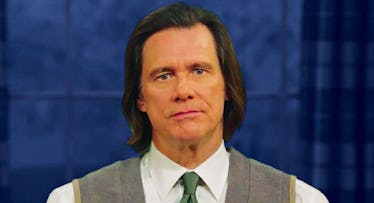 Though clearly a riff inspired by the world of wholesome children's TV, Showtime's new dark comedy Kidding has more in common with Jim Carrey surrealist cult hit Eternal Sunshine of the Spotless Mind than it does with Mister Rogers' Neighborhood. This doesn't mean Kidding isn't a good show. It is. It's not only subversively intelligent but also revitalizes Jim Carrey as one the most peculiar actors of the past fifty years. Here, Carrey sells an implausible and somewhat flawed premise: a host of children's show is disallowed from doing a TV segment about death. Though the pilot episode swerves and lurches, it nonetheless circles around to addressing an audience of adults exhausted by infantilizing entertainment. And the startling thing is that the show clearly has something to say.
Jim Carrey last worked with Kidding's director Michel Gondry on the Charlie Kaufman-written film Eternal Sunshine of the Spotless Mind, and aesthetically, the series feels like a blend of that film, Being John Malkovich, and Synecdoche, NY. The fact that Catherine Keener is on hand has a lot to do with that and, to be clear, this comparison is a compliment, too. Dave Holstein, who created the show and wrote most of it. He seems inspired by Kaufman, but there are also moments in which it also seems like the Wayans Brothers and Carrey have reunited to do something serious with Carrey's old "Fire Marshall Bill" character from the '90s sketch-comedy series, In Living Color. It is, to put it in the simplest terms, a weird show. But, the weirdness is what makes it good. A conventional version of this premise would be unwatchable.
In Kidding, Jim Carrey plays a grieving father named Jeff Piccirillo, world-famous for a meta-fictional PBS kids TV show called Mr. Pickles' Puppet Time in which he plays the titular Mr. Pickles. Jeff and Mr. Pickles are hard to separate from one another and that's the tension. After one of Piccirillo's twin sons dies tragically in a car accident, prompting his wife (Judy Greer) to leave him, Piccirillo decides to film an episode in which Mr. Pickles talks about death openly, acknowledging, to his audience of children that he is grieving. This is where things get dicey.
This is the sort of thing Fred Rogers used to pull off. But Piccirillo isn't as saintly as Rogers or, more interestingly, as unfailingly competent. In 1970, Mister Rogers aired an episode called "The Death of a Goldfish," which Kidding seems to mock more than a little bit when the show's producer, Seb (Frank Langella) dismissively makes a crack about not doing a show about a "dead hamster." Thing is, the dead goldish episode landed and Piccirillo's episode comes in way too hot. The question being posed in Hollywood elevator pitch form: What if Fred Rogers was a malfunctioning weirdo? (In a sense, this is the same question posed by Carrey's performance in Man on the Moon.)
Kidding's mockery of Fred Rogers doesn't just stop with Jim Carrey's sweaters; even the beloved stoplight from Mister Rogers is turned into a macabre object. The debut episode is called "Green Means Go," because we learn that a malfunctioning traffic light— the adorable yellow kind — was the cause of the car accident that killed Jeff's son. It's a powerful image, but a weirdly unnecessary one? The attempt to darken Fred Rogers' door is a bit clumsy. The show is better when it's just twisting around in space.
The best approach to watching Kidding is to forget the Mister Rogers references and try to imagine this is also an alternate universe in which PBS never had a renaissance and the Muppets were content to take Manhattan. Why does this help? Because it ensures that the ending isn't spoiled. A lot of the show is devoted to arguing about licensing deals (Rogers was famous for refusing to use his image to sell anything). We all know that in reality, arts spending in the 1980s got the shit beat out of it by commerce, but here, in this fictional world, it's all still up for grabs. And that's exciting if you're willing to suspend your disbelief.
The mouthpiece for the "real world" of money is Seb (Frank Langella), the producer who refuses to acknowledge a death because a character's doom represents a $112 million loss on deals. Seb is on hand to make it clear that entertaining children is not a wholesome act. He's not evil, but he's scary and his presence will unnerve parents, who'd love to naively believe better of the suits behind the smiles.
"You're a minted image, a trusted brand," Seb tells Jeff. And it's clear that is how it seems him, which is made even more chilling because Seb is Jeff's dad. Seb also suggests that the show try to associate the color purple with fatherhood because they've got a marketing deal with Hallmark. Dark? Sure. Ridiculous? Only a little.
But, the part of Seb's rant that stings the most is probably the word "brand." The characters children love are often controlled or ransomed by the profit-driven and the attention-desperate. And there's nothing parents can do about that. Ultimately, Kidding isn't an indictment so much as it is a twisted lens on the machinations behind the marketing of wonder and kindness. It's no wonder that Mr. Pickles is starting to lose it. One can only get pulled so hard in two directions without snapping.
-Kidding airs Sunday nights on Showtime at 10 p.m. Eastern time.-