"Short Ass Movies" and the Best Sketches From Jerrod Carmichael's 'SNL'
From baby clothes, to "The Slap," here's the funniest bits from the most recent 'Saturday Night Live.'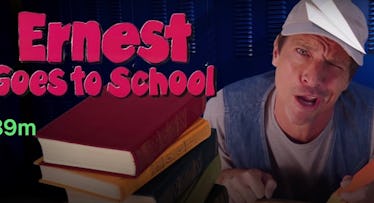 Credit: SNL/NBC
We are reaching the end of one of the best seasons of Saturday Night Live in recent memory, but luckily, the show has not stopped delivering the laughs as it gets closer to the end. Over the weekend, stand-up comedian Jerrod Carmichael hosted for the first time and showed why he is one of the best comedians working today, as he fit right in and helped the show maintain its hot streak. Here are the funniest moments from the episode that you need to check out.
Jerrod Carmichael Monologue
The veteran stand-up opened his monologue with a simple statement: "I'm not going to talk about it." The 'it' he is referring to is, of course, Will Smith slapping Chris Rock at the Oscars. But while he would not directly address 'it,' Carmichael perfectly summed up the inevitable public discourse following The Slap. He noted that started out as the only thing anyone wanted to talk about but by the time everyone had spewed out their takes, we were all sick of having to hear about and Carmichael swore that he would never talk about it again… until Lorne Michaels told him he needed to talk about it because "the nation needs to heal."
Carmichael also acknowledged the fact that he came out as gay in his new stand-up special, while also joking about the fact that he is "the least famous host" in SNL history. It was a confident and hilarious start to the show, which should come as no surprise to anyone familiar with Carmichael.
Weekend Update
While Carmichael swore off discussing The Slap, Colin Jost and Michael Che were more than happy to joke about it. The duo spent the first few minutes of Weekend Update firing jokes back and forth, with Jost, who is married to ScarJo, saying that the incident set "a terrible precedent for having to defend your wife at award shows." Meanwhile, Che questioned Rock's strategy of doing absolutely nothing as Smith walked onstage to confront him.
Post-COVID Game Show
Believe it or not, the show didn't exclusively focus on The Slap and one of the funnier sketches of the night was a game show called Is My Brain Okay? Three contestants were asked extremely simple questions to highlight the fact that all of our brains have been broken by two years of living through a pandemic. Watching the contestants struggle to identify a wheelbarrow or come up with a reasonable way to start a conversation with a stranger might make you feel better about your own struggle to pretend to be a functioning member of society.
Short-Ass Movies
Even though this sketch isn't about parenting, this sketch is perfect for tired parents. Movies are often very long, and sometimes all you crave is a SHORT ASS MOVIE. Thanks to Gunna, Simon Rex, Chris Redd, and Pete Davidson, we now have the perfect ode to the best kind of Netflix movie, ever.
Baby Clothes
Here at Fatherly, we've always been horrified by the "funny" onesies that sexualize children with terrible "funny phrases." (Check out this great essay from 2019 by Nathan Rabin on this exact topic!) But now SNL has thrown down on this topic and it's hilarious.
Nobody wants these kinds of onesies. This is so funny.
This article was originally published on