Jenny Slate's Miss Nanny Is the MVP of the New 'Muppet Babies'
If you're not watching the new 'Muppet Babies,' you're missing out on comedy gold.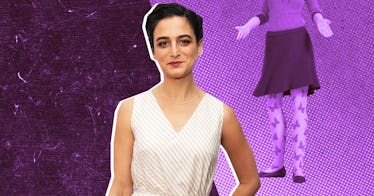 GETTY / Sesame Workshop
Jenny Slate had some awfully big tights to fill when she was cast as the new Nanny in the CGI Muppet Babies reboot. But, the thing is, she's the best part of the series, even if you haven't noticed.
Barbara Billingsley, the beloved original Nanny was the quintessential, archetypal sitcom mom. In her heyday, she reigned as a warm, nurturing presence whose words helped guide son Theodore "The Beaver" Cleaver through the landmine-filled waters of childhood and adolescence on Leave it to Beaver. Billingsley reprised the role in The New Leave it to Beaver, which ran an astonishing 101 episodes, considering that seemingly no one remembers it, and had a memorable cameo as the Jive Expert in Airplane! but otherwise made her most indelible impact on pop culture as the Muppet Babies' eternally understanding Nanny on 107 episodes of the original incarnation of Muppet Babies.
We famously never saw Nanny's face, only a pair of legs in tights. But Billingsley and the show's wildly imaginative writers and producers didn't need facial expressions or body language to make Nanny an instant icon of children's entertainment.
Nanny was the caretaker we all wish we had, a beacon of maternal warmth who guided Baby Kermit, Baby Piggy, and the gang through their travails with the same unforced sweetness Billingsley once brought to mothering Beaver Cleaver. Slate has a much different history. She's known as the star of the raunchy Sundance breakout hit Obvious Child, where she played a gleefully profane stand-up New York comedian who gets pregnant, has an abortion, and falls in love with the man who impregnated her. The comedian, actress, and voiceover artist's time on Saturday Night Live is remembered primarily for Slate breaking one of the show's cardinal rules and swearing on live television. In a related development, her time on the comedy institution was predictably short-lived.
But if Slate was an unlikely choice to replace Beaver's mom as The Muppet Babies' beloved authority figure in some ways her voiceover and children's entertainment credentials are impeccable.
Slate created the children's book character Marcel the Shell with Shoes On and provided his voice in award-winning short films. Other than a plethora of nominations and awards for Obvious Child, if you look up the "Awards and Nominations" section of Slate's Wikipedia page all of the other awards and nominations are for Slate's voiceover work in Zootopia, The Secret Life of Pets, Star Versus the Forces of Evil, Despicable Me 3, The Lego Batman Movie and The Secret Life of Pets 2.
And those are just the roles that Slate got nominated for! The roles she didn't get nominated for are just as impressive, if not more so, like her performances on Big Mouth, Bob's Burgers and Muppet Babies.
Slate honors Billingsley and her legacy without resorting to imitation. There's nothing remotely ironic or hipster about Slate's take on the character.
As the endlessly benevolent and wise overseer of an unruly but big-hearted brood of muppets, Slate's Ms. Nanny is effortlessly sweet without being cloying and sincere without being overly sentimental.
Slate's performance as Ms. Nanny is never more powerful than when she's gently imparting life lessons through song in a pure voice radiating empathy and kindness.
I'm not too proud to concede that I am a forty-five-year-old father of two who could not hold back tears during some of Slate's defining moments on the show.
As my six-year-old can attest, there are many, many things in this strange, sad, beautiful world that make me cry, up to and including unlikely friendships, deaths, particularly of animals, and children growing up and becoming adults.
So it was damn near inevitable that I would be reduced to sobs by the end of "Wock-A-Bye Fozzie", a heart-wrenching episode where Baby Fozzie is atwitter with excitement over his very first sleepover at the nursery.
Fozzie's exhilaration turns to trepidation, however, once the sleepover begins and he's overcome with anxiety and a longing for his mother.
As always, Miss Nanny has a perfect response in the form of "You'll Get There Soon", a ballad where Slate sings about all of the wonderful things that Fozzie will be able to do when he's old enough.
"It's okay if you're not there yet, still got some growing to do" Slate's Miss Nanny sings of the growing pains that come with navigating your way through childhood, to the kids in the audience as much as to Fozzie.
It only takes seventy-five seconds for "You'll Get There Soon" to break your heart and make you cry. It starts out poignant and gets increasingly powerful until a shattering ending where the silhouette of Fozzie grows and grows and grows until it's no longer Baby Fozzie but the adult Fozzie we've all come to know and love.
This sequence did not affect my six year old anywhere near as profoundly as it did me because for kids growing up and becoming an adult who can do and say what they want is a triumph. For a parent, watching your children become adults is infinitely more bittersweet and can feel like a tragedy at times.
"You'll Get There Soon" is tough to beat for sheer emotional impact, but it has fierce competition with "Every Life Is Like a Story", the song from the punningly titled "It's Not Easy Being Greeny."
"It's Not Easy Being Greeny" teaches children about perhaps the most difficult conceivable subject—the inevitability of death and the loss of the people and things we love most—through the story of Summer Penguin's beloved pet plant Greeny.
It's established early on that Ms. Nanny, being a God-like figure of infinite compassion and seemingly unlimited power, can fix anything. So when Summer Penguin's plant Greeny begins to shed leaves she comes to Ms. Nanny in hopes that she can work her magic.
Instead, Ms. Nanny lets Summer and her friends down as gently as possible by explaining that Greeny is an annual and annuals only live for one year, at which point they stop taking in water or growing in sunlight.
"And then I'm afraid it dies and it can't come back" Slate's Ms. Nanny tells Summer as she unsuccessfully tries to hold back tears.
Then Ms. Nanny once again uses music to sweeten a bittersweet lesson about the finality of death and the importance of savoring the time we have with the people and pets and plants we love.
"Love what you've got while you've got it/Flowers, family, friends, cause every life is like a story, with a beginning, a middle and an end" Slate's Miss Nanny sings tenderly, with just the right amount of twang.
Animal speaks for everyone when he confesses, "Animal sad."
Without Slate's delicate handling of decidedly somber subject matter, the moment easily could have come across as morbid or maudlin. Instead, it's absolutely perfect.
Muppet Babies is showing real signs of creative exhaustion these days. The introduction of new characters like the painfully adorable, big-eyed, lisping Rozzie Bear and Jill, a bossy, overbearing older frog that's like Miss Piggy without the charm, reek of commercial desperation.
Yet Slate's masterful performance as Mrs. Nanny remains an understated delight. Slate may not be the most obvious pick to care for baby versions of Jim Henson's timeless, universal creations but she's the reboot's MVP as well as its gentle heart and tender soul.
The new Muppet Babies streams on Disney+, Disney Now, and Hulu.