Watch Little League Prodigy Jayce Blalock Smash a Ball Nearly 400 Feet
Georgia's third baseman is already the breakout star of the Little League World Series.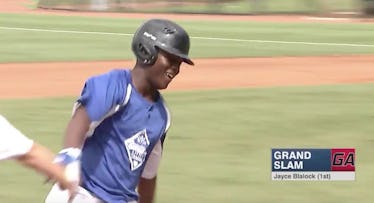 He may only be 12 years old, but Jayce Blalock already has a major-league talent for dinging dongers. The home run machine, who is playing third base for Georgia in the Little League World Series, crushed a grand slam almost 400-feet during a game against South Carolina, becoming the tournament's breakout star during the Southeast Regional tournament. The shot was heard around the internet as unbelievable footage when viral. Sure, Blalock is big for his age, but he's not big enough for that sort of shot to seem feasible.
In the top of the first inning, Blalock stepped up to bat with the bases loaded and the announcers immediately began to wonder if he was about to clear the bases. Sure enough, on a 1-1 pitch, Blalock sent the ball past the fence and into the trees, giving Georgia a 5-0 lead over South Carolina. Georgia would go on to win the game 14-2.
Standard little league fences tend to be roughly 225 feet away from home plate, as the majority of little league players do not have the ability to hit a ball anywhere close to someone playing baseball professionally. Blalock made it clear he is not like most little leaguers, as his ball sailed for an estimated 375 feet, a big league home run distance.
Watching the video of the grand slam, it almost seems like Blalock could hear the announcers speculating about whether or not he could hit it into the trees that were at least 100 feet past the home run fence. Just as one of the announcers expressed some doubts, Blalock decided to settle the argument once and for all.
There is still a lot of baseball left to be played in this tournament, but if you are looking to watch the next Aaron Judge before he makes it big, Blalock might be your kid.