How Jason Reitman Brought His Dad Ivan Reitman's 'Ghostbusters' Back to Life
"I was not going to make the movie unless the original actors came back."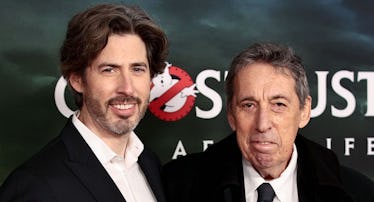 NEW YORK, NEW YORK - NOVEMBER 15: Jason Reitman and Ivan Reitman attend the "Ghostbusters: Afterlife" New York Premiere at AMC Lincoln Square Theater on November 15, 2021 in New York City. (Photo by Dimitrios Kambouris/WireImage)
Editor's note: This interview was originally published on November 18, 2021. Since then, we've learned of the sad passing of the brilliant Ivan Reitman. Please enjoy this Q&A between Fatherly and Reitman's son, Jason, all about family legacy.
Who you gonna call to direct a Ghostbusters sequel? The answer is Jason Reitman, the son of Ghostbusters and Ghostbusters II director Ivan Reitman! Jason is an acclaimed filmmaker in his own right, with Thank You for Smoking, Juno, Up in the Air, and Young Adult among his most memorable efforts. And, in many ways, he's the heir apparent, even if a visual effects-laden supernatural family comedy doesn't immediately strike one as up his alley.
Ahead of the release of Afterlife, Fatherly caught up with the director, who filled us in on why he wanted to make Afterlife, discussed how he loved sharing the experience with his father — who produced the film and was on set nearly every day — and addressed whether or not he'll oversee any possible future Ghostbusters projects. Mild spoilers for Ghostbusters: Afterlife ahead.
The film initially centers on Callie Spengler (Carrie Coon), the estranged daughter of former Ghostbuster Egon Spengler (the late Harold Ramis), and her kids, Phoebe (McKenna Grace) and Trevor ( Finn Wolfhard). Broke and having just lost her house, Callie takes the kids out to Oklahoma after receiving word of Egon's death. Single mom Callie hopes she can sell Egon's house and farm, her only inheritance, but it's a dump in the middle of nowhere — and just a little haunted. Oh, and paranormal activity seems to be on the rise everywhere they go. Ultimately, the kids make some new friends (Logan Kim as Podcast, Celeste O'Connor as Lucky), Callie sparks with a local school teacher (Paul Rudd as Mr. Grooberson). And, together, with maybe an assist from some Ghostbusters icons (not a spoiler, as Dan Aykroyd and Bill Murray, are part of the most recent Afterlife trailer), the kids, Callie and Mr. Grooberson try to save the day when all hell breaks loose.
Because of all the intergenerational themes in the film, we decided to get right into it with Jason Reitman, starting with childhood. Here's what he told us…What are your earliest memories of Ghostbusters in your life?Reitman: I actually remember being six years old on the set of Ghostbusters. Those are my earliest memories. I remember being on the street in Manhattan in front of Dana's apartment building when they lifted up the concrete and I remember seeing the guys in their flight suits and then it raining marshmallows from the sky. And, honestly, I remember being a fan of Ghostbusters. I remember that movie coming out and just loving it and watching it over and over.How much do you feel like you were destined to one day direct the next chapter in the Ghostbusters saga?
Reitman: Certainly, it's a question that was asked a lot as a kid and growing up, too, as I became a filmmaker. And I never had the courage to do it, is the truth. I really thought I had charted my course as an independent filmmaker. I had ideas for films. I made some films. It was my father who finally gave me that final push to do Ghostbusters. It was like when he taught me how to ride a bike. He gave me that final push. That was what gave me the confidence.
How important was it to you to retain the original film's genre-blending, which encompasses comedy, action, supernatural, and horror?Reitman: That was paramount. That was absolutely important. That's what defines Ghostbusters, right? It's this comedy where the scares are real. If you were seven years old like me when you saw it, it was the scariest movie you've ever seen. If you were a teenager, it was the funniest movie you'd ever seen. We wanted to do that and to make sure that the opening sequence of this film is a legit scare. We handled it with complete seriousness so that the audience knows right from the get-go, we're not screwing around.How often did you turn to your dad for input during the script stage and during production — and what was the most valuable nugget he gave you?Reitman: My father has been giving me the best film advice literally since I started filmmaking. I remember talking to my dad on the phone the night before my first day on Thank You for Smoking, and he said, "Don't worry about it being funny. Your barometer for humor will never be as strong as your barometer for the truth. So, just make sure it's honest." Killer advice. Killer. And on this set, he was sitting right next to me. So, often it'd be about Ghostbusters things. We'd walk up to the terror dog and see if it was moving correctly. or look at the slime and actually judge if it was the right color. I had the world's foremost Ghostbusters expert sitting right with me. Often, it was about just regular humanist storytelling. Do you believe the actors talking? What would make the scene feel more real? What could make it funnier? What would be a better out to the scene?How accurate is it to say that Afterlife is a family making a film about family for families?Reitman: It's about as accurate as it gets. I am the son of a Ghostbuster. It's not an accident that I have made a movie about the grandchildren of a Ghostbuster. I am telling my story, the story of having the courage to pick up the proton pack and what it feels like to carry that legacy.After the screening at New York Comic-Con, several of us were talking and one of the things we discussed was the possibility that each of the kids represents one of the original Ghostbusters. So…Reitman: It's a great question. I don't think there's any real one-to-one, but we definitely wanted to capture the different energy of the Ghostbusters. Egon was this brilliant scientist who struggled to connect with the other people in the world. That's who Phoebe is. Phoebe is brilliant and has a very big inner life and feels everything, but struggles to connect with others. And becomes a hero through ghostbusting. Amongst the others, though, there's a little bit of a mix. You get a little bit of Ray (Aykroyd) in Podcast, and I think that Trevor and Lucky both have a little bit of Venkman (Murray) and a little bit of Winston (Ernie Hudson) in them. What was it like for you personally to watch your dad revisit the world of Ghostbusters?Reitman: Oh my god, it was crazy for everybody. Anytime he walked up to Ecto-1, I think the whole crew would hush. Anytime he'd go up to see the Terror Dog or pick up the proton pack, it was great. You're getting visited by a legend. Even though it's my dad, he is a legend. There was that sense that we're picking up his child.This is the biggest movie you've made and also your most visual effects-heavy production. How did that change the game?Reitman: This is definitely my first crack at a visual effects movie and my first car chase. What I was thrilled by was creating a film that married the bleeding edge of visual effects technology, working with some of the greatest artists in the business, and at the same time, making an old-fashioned Hollywood special effects movie, using wires, smoke, magnets, and of course, animatronic puppets. There's a weight to them, and you can feel the actors interacting with them. It brings us back to the movies that made us fall in love with going to the theaters in the first place. And it's that mix that really makes it a Ghostbusters film.The trailers reveal that at least a couple of original Ghostbusters are back. What was it like to have original cast members there, and how big a decision was it to bring them together in this?Reitman: I was not going to make the movie unless the original actors came back. We had a very specific intent. I think of a movie as of how it ends. That's my way into a film. And I knew the ending very early and it involved the original team coming back. I wasn't about to go make this Ghostbusters movie unless they thought it was worthy to come back for.After all the pandemic-related delays, how ready are you for the world to see your movie?Reitman: I cannot wait. Look, the last few years have been so complicated and difficult for everybody. Frankly, I've had it very easy compared to most. I want this movie to come out. I cannot wait to watch it with more audiences. Being at Comic-Con two nights ago was the evening of a lifetime. I was thrilled to share it with 3,000 Ghostbusters fans, and I can't wait for the world to see it.Now I'm sure you don't want to get too far ahead of yourself, but the stage is set for Ghostbusters: The Next Generation films. How involved do you want to be? Do you want to be the grand poohbah, the godfather of the Ghostbusters franchise?Reitman: I don't think I can answer that just yet, but I will say that we definitely wanted to set the table for the future of Ghostbusters. Every culture has its relationship with the afterlife and ghosts, and I want to see all those stories. I'd love to see my favorite filmmakers directing Ghostbusters movies.Ghostbusters: Afterlife opens in theaters on November 19.
This article was originally published on