Jason Momoa Just Joined the Next 'Fast and Furious'
We should have seen this coming.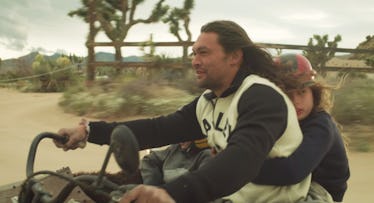 YouTube/Jason Momoa
The Fast and Furious franchise just got a whole lot bigger. With the addition of one new actor for the next installment, fans can't possibly be furious, though it's possible the Rock might roll his eyes.
If you're not totally immersed in the Fast and the Furious franchise, here are two things you should know: The secret message of the movies claims not to be about being fast or furious, but instead, about being a found family. Second, nearly every single major action star on the planet has appeared in these films at some point, including the Rock, though, he'll never appear in one ever again because he and Vin Diesel are locked in a real-life blood feud that will likely last forever.
However, as of now, the next Fast film, the tenth in the franchise, will co-star none other than Aquaman and Duncan Idaho himself, Jason Momoa. News broke on Deadline that Momoa will appear in the next film, but "plot details are unknown at this time."
From Dune to Justice League, there's no denying that Momoa will bring something awesome to the Fast world. The only truly strange thing about his casting in F10 is simple: It kind of seems like he's already in these movies even though he's not. If anything, it feels like the Fast franchise was slow to nab Jason Momoa. Or maybe, the secret plot of F10 will reveal one truth: This whole franchise has been a secret Jason Momoa vehicle the entire time. For proof, see all other new movies.
F10 is thought to hit theaters in May 2023. But, we'll see Jason Momoa in Aquaman 2 on December 16, 2022.