Jason Momoa's Kids Saw His Beardless Face Because of 'Dune'
"I'm not a fan of shaving. I'm not a fan of cutting hair. Period."
by Donna Freydkin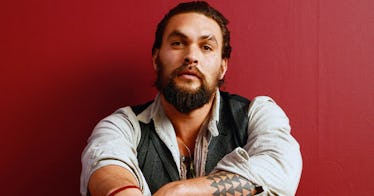 GETTY
Jason Momoa is in London, in the midst of what he calls a full-fledged "proud papa bear" moment. Like the rest of us, he's just seen the new trailer for The Batman, starring Robert Pattinson as the caped crusader and Momoa's stepdaughter Zoë Kravitz as Selina Kyle. And like every dorky, overly-enthusiastic father, famous or not, Momoa is blowing up her phone. "I'm like, 'Can I post it and just tell the world how proud I am of you?' But she may not want that. So I've been waiting for the response. I just cannot wait," says Momoa.
The dude has plenty to keep him busy. First off, Momoa plays Duncan Idaho, a gifted swordsman for the House Atreides and the breakout character in Dune, opening Friday in theaters and streaming on HBO Max. It's fair to call him the bleaker, darker Han Solo. And there's plenty of room for growth, should that be in the cards: Believe it or not, Duncan is the only character who is present in all six of the original Frank Herbert Dune books.
Momoa saw the film with his kids, daughter Lola, 14, and son Wolf, 12, and is open to reprising the role of Duncan, should scheduling work out. He's currently filming Aquaman and the Lost Kingdom, for director James Wan, and even has a writing credit in the film. Between sets and photo shoots, Momoa talks to Fatherly about shaving his famous beard, fatherhood, and finally getting to do "fun stuff."
Let's talk Dune. Your character is cloned in the books. Have you and director Denis Villeneuve discussed about you coming back in some capacity?
We haven't yet, no. We haven't yet. Because obviously, it's so far off. We had an initial conversation because at that point I hadn't read that far into Dune. So he definitely mentioned that. And we haven't talked about it since.
But you'd be open to it?
Oh, absolutely. Yeah. He's a phenomenal character. Absolutely. And Denis, I love him. So I mean, anything that's got his name attached to it, whether he's directing or producing, I would absolutely be honored and love to. It would be an honor.
In Dune, you have a really nice, paternal relationship with Timothée Chalamet. Did you draw on your family to help build the character?
I try not to pull any of that stuff, the whole family, using my kids or wife or any of that stuff, but I just try to make it real. And I think Timothée and I have a really good… We're just good buds. And I think it's effortless with him. And there's a couple things I did put in there, but it was more to like, it was to give to my son. Like, we trained a lot in Kali (martial arts), and there's this symbol that you do. You put it on your heart, and then put the sword to your head. And then there's that moment where, that comes from my son, he taught me that. And so I wanted to give that little shout-out to my baby boy. And in turn, that's for Timothée, just being able to go like, I'll die for you and just to honor him. And so it was a neat moment to be able to give that to my boy.
Midway through the film, we see Jason — sans beard. What was that like?
It was weird. Weird. I'm not a fan of shaving. I'm not a fan of cutting hair, period. I would only do it for Denis. You know what I mean? It was a bit of a trip, feeling it, but I mean, it's perfect for the role. And he wanted it. So let's do it.
How long does it take you to grow your beard out?
Before that, I hadn't cut my beard in a very long time. I mean a long time, so I don't even know if my kids saw my face. Even when my kids see it, they're like, 'What? I don't know about that.' So they kind of like me better with a beard. I guess it takes about like five, six months to grow, to get really big.
As for Aquaman, what's the update there?
I guess we're two-thirds of the way through. Having a really, really good time. There's a lot of comedy, there's a lot of fun in it. And there's also a lot of sorrow. So there's definitely some gut-wrenching moments. The cast is epic. So we're having a really solid time — the first one was really, really, really hard. But this time, there's all these new things we're introducing. So it's been fun to kind of like be at the, I guess, the precipice of new technology that hasn't really been out there yet. So that's really fun.
Do you feel like you have more ownership of the character now?
Well, I've had probably, what, four movies now? I love playing this character. I loved it so much that after we finished the first one, I kind of wrote like around a 40-50 page treatment/mini script to give to James and our writer. And my partner and I worked on it, and they loved the idea, and they really pulled a lot of the things that we were pitching and put it into our script. I'm really, really happy. And it's just a lot of environmental stuff, too, that I'm excited to introduce. It's not like we're fighting in another a galaxy or another world, or there's some evil forces here and there. It's really making it about where we're at in this space and time. I love it so much that I've got a little writing credit in it.
What does being a dad mean to you?
I mean, I really don't know what the hell I was doing before I had kids. It's the point of living for me. I love being a father, and it's made life so much more beautiful to me, having babies. And something to just love, and take care of, and teach, and make better than what you did, and try to make really good humans. So just trying to make good humans who make great decisions. It just brings out all the soft corners of your soul, and makes you vulnerable, and gives you lots of strength. I was tending to a baby at two, three in the morning, and trying to function on no sleep, and trying to take care of something that you just love more than yourself.
Does being a father influence how you approach your work and the roles you want to play?
I haven't been that lucky as an actor. For the first part of my career, it's more of putting food on the table. So it wasn't like, 'Oh, I got to pick and choose these roles.' I'm very fortunate now that I get to do that. So I think now, I've been really trying to do things that they can watch. I always play pretty bad, savage dudes. And so it's been nice to be able to do some fun stuff. And doing a comedy. I did a comedy this past winter, and it was so much fun, and they were there, and it was just really playful. And it's really fun to have them on set and giggle and watch me be silly.
So would you ever do anything with Zoë?
Oh my God. Yeah, absolutely. I mean, I just texted her. She's probably still sleeping, but I did text her. I said, 'I'm so proud of you.' Because the Batman trailer is unbelievable.
It's insanely cool.
I think Robert looks phenomenal. Matt Reeves just killed it. I haven't seen anything yet. I'm just so pumped. Because I just love the darker version. Joker was one of my favorite movies. I thought that was genius. And then with this coming out, I'm really excited for that dark Batman we haven't seen on that level. It's so good.
Jason, you're Aquaman. You can demand to see an early cut.
Yeah, I guess I probably could do that. I guess I could. I'm going to make that shit happen before I leave. You're absolutely right. What am I talking about? I'm fucking Aquaman. I'm with Batman. You're my first interview, kicking this whole thing off, and you just fucking killed it.
I'm hungover and it's Sunday. So there you go.
I'm hungover and I'm in London. It's all downhill from here.
Dune: Part One is streaming now on HBO Max and is playing in theaters everywhere.