Jason Isaacs Reveals the Best Reason He Should Play a Rebooted Magneto
Our favorite evil Harry Potter dad is in a great new film called 'Mass.' Here's what the delightful Isaacs thinks about well, everything.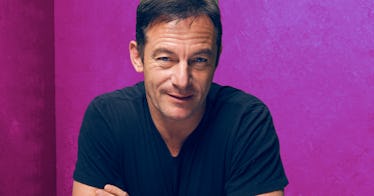 GETTY
It's often hyperbole when critics reference Oscar-worthy performances in movie reviews, but such is not the case with Mass. Jason Isaacs, Martha Plimpton, Ann Dowd, and Reed Birney star in the searing indie drama, and if the film and its cast aren't at least nominated for Academy Awards, there's something seriously wrong with the system. Now in limited release, Mass marks the writing-directing debut of actor Fran Kranz. The film is as bare-bones as movies get: Plimpton and Isaacs play Gail and Jay, whose son was killed in a school shooting perpetrated by the son of Linda and Richard, played by Dowd and Birney. Years after the deadly event, the four parents meet face-to-face in a conference at a small-town church. The conversation that ensues will haunt any parent, and the emotions on display – anger, hope, despondence, acceptance, doubt, grace, etc. – will resonate as well.
Isaacs delivers a stunning performance, adding to a long and impressive resume that includes Dragonheart, The Patriot, several Harry Potter installments (as Lucius Malfoy), Awake, Star Wars: Rebels, The Death of Stalin, Star Trek: Discovery, The OA, and a dozen other upcoming projects. Fatherly spoke last week with Isaacs, who eagerly discussed Mass, Star Trek, his upcoming projects, and more.
When the script for Mass came your way, how did you first react to it, as a husband and father of two or as an actor?Isaacs: I reacted to this as someone who has always been fascinated by the South African Truth and Reconciliation Commission and by restorative justice meetings. How the f—k can people go into a room with someone they hate, or that they think they ought to hate and get anything from it at all? When they're not going to agree on things, and they're not gonna end up as friends? How is that beneficial? How does it not make things worse? That was what I thought before I read the script. I knew what the script was about. I'd been told. When I read this thing, I was at a Starbucks. I was gripped. I just couldn't wait to see what happened next, which is the most important thing in any story. Then I was sobbing and heaving. By the end, I felt different, like the world had changed. There were people in Starbucks, looking at me like I was really badly mentally ill. I thought, "This is a nuts idea. Who wants to make this? I'm in." But I didn't know if it would work. Now, to see the responses it's getting from audiences, reviewers, and everybody comes across it… is incredibly heartening. It means there is room for people to tell sophisticated, grown-up, complex stories about the human condition. Not every character has to wear a cape and have magical powers.Did you talk to parents, to families who'd experienced such a tragedy, or did you go on instinct?Isaacs: Any conversations I had, I promised to keep discreet. Also, it's really not about the specific thing that happened to my character. It's about blame. The thing that happened years ago, to my mind, could have been any number of different incidents. What we meet here is a man whose life and marriage had already been destroyed. The incident, whatever it was — in this instance, it's a school shooting many years before – was only part of it. Every day, their lives were full of anger and hatred and blame, or his wife's was. He's displaced all of his feelings. He does that man thing that so many of us do, thinking, "Well, wait a second. Something doesn't feel right. What do I fix? What do I provide my attention to provide a solution? Where can I fix the system? Where can I change the medication?" What outside himself needs to be attended to, as opposed to what inside himself needs to be attended to? What can we do to feel grateful for what we've got, instead of either resentful or furious or bitter?What impressed you about Fran as a director?Isaacs: I didn't know if this script I read could possibly be a film. I thought he'd lost his mind. Just four people in a room. On the other hand, I was so terrified or excited or something – adrenalized? — by the thought of trying to do it justice that I jumped in. Fran was very, very open about the fact that he hadn't done anything before. He had some plans, but whether it would work or not, I didn't know. I didn't know if the world's most experienced director could make this a watchable film. I just knew I wanted to do it. I wanted to go down with the ship with these extraordinary actors. So, we did this thing. We lived in this crazy, extraordinarily emotional bubble for two weeks, shooting by day and thinking about it and talking about it and semi-staying in character all night. Fran was doing his thing. He wanted to share with us, share what he was doing with his lenses and doing with the camera movements. We kept saying, "We don't care. You don't need to share that with us. You don't need to be the actor in the green room anymore. You can be the director, but keep it to yourself." And he managed to, invisibly, pull all the strings, and make aesthetic and craft-based choices that turned into the thing I didn't think was possible, which is a film that conveys the same powerful emotional punch to the audience as we experienced when we made it.Let me read what IMDB has listed for you as upcoming projects. Give me a second to take a deep breath. OK… Sex Education, Monster Family 2, Mind-set, Operation Mincemeat, Everything I Ever Wanted to Tell My Daughter About Men, Mrs. Harris Goes to Paris, Spinning Gold, Good Sam, Agent Game, The Dead Spit of Kelly, and Batman Unburied. So, A), how have you squeezed in so many projects in the middle of the pandemic? And B), do you have a clone?Isaacs: (Laughs) A number of those films were a couple of hours in my bedroom, on a microphone, doing voiceovers. Mind-set was a favor for a friend, and I did it on Zoom. A couple of them were shot years ago, before the pandemic, and a couple of them haven't been shot yet. During the pandemic, I spent six months scrubbing pans in my kitchen and wishing my children chose more interesting things to watch on television. I had the same life as everybody else, getting the rubbish out and not changing sweatpants for a long time. But… Mass is a really powerful, beautiful adult project. It's a sophisticated story about the need for human contact in this divided world. Mrs. Harris is finished, and it's a gorgeous, lovely film. I couldn't be there for the screening, but I hear it's fabulous. Spinning Gold is finished. I've seen it and it adored it, and the music is phenomenal. Operation Mincemeat is finished by I've not seen it yet. I loved making it with a bunch of English people I adore, and John Madden is a great director. I think that comes out in January on Netflix. Jesus, what are the others? Sex Education was three days in Wales. Everything I Ever Wanted to Tell My Daughter About Men is an anthology of short films. My friend Saffron Burrows was directing it. I should have gone home after Mass, but I flew and slept on someone's couch, and I did a one-night shoot. It's playing in film festivals. It's stories about women who are coping with abuse. Saffron will be a hell of a director in time. Good Sam is a series I'm going to do. They very, very kindly let me miss the first 10 days of rehearsals so that I could promote Mass, and I start Tuesday on the show.We've just got a few minutes left to chat. Star Trek fans want to see more of you on Discovery, and you could return as Prime Lorca. How interested would you be in coming back to the show?Isaacs: Are you kidding? I love those people. I love Star Trek. I was excited to be in it. I'd want to be in a great story. I'd want to be doing something interesting. But they're great storytellers. I will be in Toronto, where they're shooting, and I'm hoping to go down and badger them and say, "Look, I'm down the road. I'll save you on accommodations." So, we'll see.
I don't know if you've heard of fan casting, where people basically push for an actor or an actress to be cast in a role, but a lot of X-Men fans are pushing for you to play Magneto…
Isaacs: I have heard of fan casting. In the history of fan casting, has anyone ever got anywhere near playing the role?I think the answer is yes. And, just in terms of Star Trek, the producers heard the demand for a show about Anson Mount's Captain Pike, and they're about to get Strange New Worlds?Isaacs: Yeah. Yep. Fair enough. Okay. Noted. I have heard about fan casting and the Magneto thing. The only impression I've ever been able to do in my life is Ian McKellen. His is the only voice I've ever been able to mimic passably. So that either recommends me or precludes me from doing it. I'm not sure that they need me. I presume at this point they're going to younger because they went from McKellen to Michael Fassbender, right? I presume, if you follow the mathematical pattern, the next one's going to be 10 years old.Mass is in theaters now.