James Gunn's NOT 'The Suicide Squad' Playlist Slaps. Listen To it Here
Here's your own personal soundtrack to being awesome.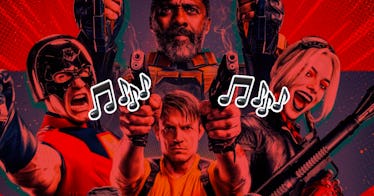 Warner Bros. Pictures
It was all music to James Gunn's ears but didn't quite make the cut. What are we talking about? Gunn, in crafting the soundtrack for his upcoming movie, The Suicide Squad, picked songs to include and, for a variety of reasons, couldn't, wouldn't or didn't use other songs. The full soundtrack – and song listing — won't be out until closer to the sequel's August 6 release, though we know it includes "Rain" by Grandson, featuring Jessie Reyez, which can be heard in the trailer. What's unusual is that Gunn, at the request of Empire, shared a playlist of 10 songs song that almost made the soundtrack and explained why they failed to do so. Interestingly, in revealing what he did not use, Gunn also announced a couple of songs that will be heard in the movie and, presumably, on the soundtrack.
Here's quick snippet of what Gunn said about some of the new tracks in the new Empire article.
"What a Way to Die" – The Pleasure Seekers: "I love this old garage-rock tune, which was briefly considered for the opening credits instead of 'People Who Died' by The Jim Carroll Band.""Death on Two Legs" – Queen: "This was briefly considered for the big Harley Quinn action sequence back in the script stage (yes, I write all of the songs into the script), before I came up with the final choice for the scene.""Rusty Cage" – Johnny Cash: "When we were almost done with the movie we heard that Guy Ritchie's Wrath Of Man, which was coming out a couple of months before us, was using 'Folsom Prison Blues'. So we almost used this — then I decided I just like 'FPB' better for the scene; I'll let the chips fall where they may."
Here's the full playlist, 10 tracks total!
Margot Robbie, Idris Elba, John Cena, Joel Kinnaman, Sylvester Stallone, Viola Davis, Jai Courtney, and Peter Capaldi star in The Suicide Squad, which will open in theaters and stream on HBO Max beginning August 6.