It's Not Unfortunate that 'A Series of Unfortunate Events' Has to End. It's Tragic
Though the Netflix series is largely faithful to the Lemony Snicket books, you'll find yourself wishing that the story of Olaf and the Baudelaires could go on forever.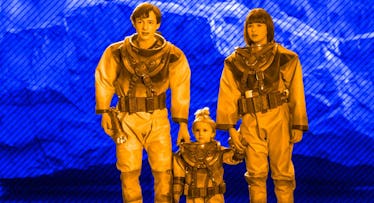 Netflix
If you want to be spoiled on the ending of Netflix's A Series of Unfortunate Events all you have to do is read Lemony Snicket's 13 books written for grade schoolers. But, even if you know how the story of Baudelaire orphans stops, this final season will make you sadder than the previous two. Because it's so damn good, you'll wish this show's third and final season — dropping on Netflix on New Year's Day — could somehow destroy its own premise.
In the previous paragraph, I used the word "stops" and not "ends" and that's because the story of the Baudelaire orphans doesn't end, not in a conventional sense. If you're even vaguely familiar with brilliantly hilarious and darkly intelligent Lemony Snicket books which the TV series adapts, then you know the smartest weapon in the narrative arsenal of these stories is the way it plays with the expectations of the audience. Answers to long-running mysteries are dangled in front of us, only to be transformed into new questions in the next installment. This kind of bait-and-switch exist in other stories, of course, but author Daniel Handler (the "real" Lemony Snicket) proved himself the master of twists with this series.
If you haven't started watching or reading the Lemony Snicket books, it's not too late. In fact, beginning your Snicket-binge with these final seven episodes won't be off-putting at all. Unlike something like the Harry Potter series, the convoluted continuity of the Snicket-verse isn't meant to be understood and cataloged. Instead, the complex canon is merely part of the fun, and often, part of the joke. This technique cuts both ways because of course, younger viewers will be invested in the larger complicated backstory in which the parents of the Baudelaire orphans (and seemingly everyone else they meet) are all part of a secret organization which either fights fires or sets fires, either metaphorically, or sometimes, literally.
As with previous seasons, the wordplay and sly imagery of the original books translate brilliantly in the show. And in the final installment, Handler and company really pull out the stops with a certain inversion of Biblical imagery. Without spoiling anything outright, let's just say that in the Snicket-universe, apples, snakes, and knowledge aren't bad things. And yes, when we say snakes, knowledge, and apples, a lot of that stuff is both figurative and literal at the same time. This highlights what makes these stories so great: They remind you why adventure stories are so fun for kids in the first place. Metaphors, similes, and actual events can slither around and intertwine fluidly, making the clunky obviousness of a Harry Potter novel or a Narnia book seem like baby talk in comparison.
One of the hallmarks of all the Lemony Snicket books is the hilarious way in which the narrator will use definitions of words to set the thematic stakes for a particular book or chapter. In that fashion, there are two words you could use to describe the Netflix adaptation of A Series of Unfortunate Events: Subversive — a word here meaning "it deliciously mocks tropes of other kids stories" and faithful — a word here meaning "it doesn't mess up the awesome books." But as you watch the final installment of the tragic Unfortunate Events, you'll find yourself feeling sad about both of those words. The fact that the show is subversive is what makes it great, and its faithfulness to that subversive source material also means it has to stop at this particular point.
And that's the real unfortunate event, because as Count Olaf, Sunny, Klaus and Violet's adventures reach what passes for a conclusion in this narrative, you'll find yourself missing them all instantly, and wishing the show could become something it's not: conventional and never-ending.
A Series of Unfortunate Events Season 3 will begin streaming all 7 of its final episodes on January 1, 2019, on Netflix.