Is the Great Wolf Lodge the Perfect Family Resort?
One dad's journey into belly of indoor water parks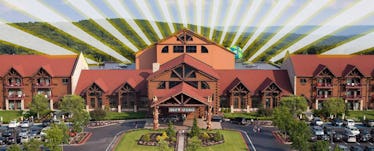 Great Wolf Lodge
The four of us — the two boys in the back and their mother in shotgun and me at the wheel — sat somewhere in Long Island in a scarlet red Subaru not moving. Traffic was brutal and the sky glowered and the sun got low and a bitter wind blew. We were surrounded by winter and logjam, Normally, stuck in a car going nowhere with two kids and hunger forming a sort of Cold War Countdown clock, was cause for concern. But two things tonight change that. One, the car. Two, where we're going.
Car first, a Subaru and not just any Subaru but a brand-new 2019 Subaru Ascent the signal chariot of the suburbs, the kind of car my friends' moms all drove while I, in the far back of the station wagon, fantasized about them. It's the kind of car that today line the streets of my neighborhood in Park Slope and have come to stand auto-metonymically for a certain flavor of financially prudent, deeply responsible, reasonably comfortable style of parenting to which I desperately yearned. I'm what's called a Subarophile. Now, I'm an Outback man, usually. In fact, Ss enamored of the Subaru Outback was I that I had even penned an ode to it not too long ago. It goes like this: "Maybe someday I can afford a Subaru Outback. If everything goes the way it should, a Subaru Outback. Dreams are like sedans. There's room for you. Room for me. Room for the family." The Ascent, that I had borrowed, is new for 2019. It's like an Outback if it Mario Brother'd itself to be bigger.Sith all sorts of luxurious touches — I don't recall my ass feeling so nicely warmed as a boy — the cabin of the Ascent shielded us from some extent from the cold cold world outside, with all its misery and wind, and the dark long road with all the lonely souls atop it in their own cabins of isolation and pain.
More importantly, we were headed to the Great Wolf Lodge, which may be the most perfect family resort in the world. I say "may" because I haven't yet been to all family resorts in the world and also because, at the time we were in the car, I had not yet been to the Great Wolf Lodge either. I just didn't know. What is the Great Wolf Lodge? If you had asked me that mere days before we left, I'd have no idea. Naturally, I would have assumed it was a ski resort in Colorado, home of the Great Wolf. Only now do I realize there is no such thing as a Great Wolf, I was thinking of the Grey Wolf (canis lupus), and at any rate, Great modifies Lodge, not Wolf. What the Great Wolf Lodge is — or rather what Great Wolf Lodges are — are 17 massive indoor water parks with family-focused adjoining lodgings scattered around the United States like some sort of prete-a-porter oasis. There are Great Wolf Lodges in Wisconsin Dells, Wis.; Sandusky, Ohio; Traverse City, Mich.; Kansas City, Kan.; Williamsburg, Va.; Pocono Mountains, Pa.; Niagara Falls, Ontario, Canada; Mason, Ohio; Grapevine, Texas; Grand Mound, Wash., Fitchburg, Mass., Charlotte, N.C.; Garden Grove, Calif., Colorado Springs, Colo., Bloomington, Minn., LaGrange, Ga., and Gurnee, Ill. Later this year, resorts will open in Scottsdale, AZ and in the following, one in Manteca, California, aka "The Family City." It was to the Great Wolf Lodge in the Poconos to which we drove.
If you are thinking, indoor water park, you mean with water slides, that are tall, too tall to be indoors, well, my friend, then you haven't been to the Great Wolf Lodge's indoor water park. It is proof that one of man's greatest skills is capturing space and putting it indoors. The water park and the resorts sprawling 410 rooms are reached through a long and winding access road we approached well after nightfall. The kids were almost passed out but not yet asleep when we pulled into the porte-cochere. Into the lodge they tumbled as parking I went to find so I can't say with certainty that their small faces lit up with crazy joy as they beheld the wooden rafters and roaring fireplace and Brobdingnagian tableaux of animatronic animals. We were, as I said, in the frigid apex of winter but as unromantic the snow was outside the lodge, here, inside, where it perpetually snowed foamy bubbles from a hidden machine, it was pure magic. I can't say what the initial reactions of my children were only that by the time I sought them out a few minutes later, they were so besides themselves with wild enthusiasm, a thin skein of sweat and pleasure coated their flushed cheeks. "It's so fancy," warbled my eldest son, Tony, "I love it." "Gargle gargle blerch," said my five-year-old, Patrice, whose mouth was already full of candy from a candy store which is literally part of lobby. "It's your nightmare, Daddy!" he said, knowing well my aversion to sugar. I nodded but the truth is, it was also my dream.
Here was a booming business entity not simply friendly towards families but focused on them. Here, amongst the endless hallways with their low pile carpeting, one could find the platonic ideal of a family vacation. In the basement was an arcade, cheap distraction, sundry victory at the hands of digital bad guys. In the water park, slides of enormous slope like the double barrel drop and the hydrplunge towered over more tranquil pools. Across the floors, as part of the Great Wolf Lodge's proprietary fantasy game Magiquest, paintings spoke and treasure boxes opened all at the beck-and-call of small plastic wands available for purchase in the gift shop. And in the lobby, storytime, twice a night, with characters.
Me? I'd prefer Amangiri or Playa Vik Jose Ignacio. Once a luxury travel writer, I'm still a fancyboy. But there are a few things I want to say about the Great Wolf Lodge. First of all, that being there is an exercise in selflessness. This isn't to say I did not enjoy its vast carpeted expanses or the buffet with its small army of chicken tenders. For I did. Or that the warm chlorinated air of the water park didn't light me heart on fire because it did. And I too was chuffed at the attention paid to our party by large costumed rodents like chipmunks and mice who wear cute costumes and give high fives. Trailing after my children as they waved their wands during a six-hour game of MagiQuest, what I loved most was watching them explore the upper reaches of pleasure.
I've spent a career in the quiet precincts of five-star luxury. There among the statues of a Buddha and tea tree signature massages and all the hush I found peace but perhaps not enough joy. At the Great Wolf Lodge, peace and quiet are scarce commodities but joy is abundant. Every family has it, every family in their matching pajamas, doing a little raised fist salute I come to learn signals membership in the "Wolfpack." I scoff at first but later, after a day of Tony clinging to my back in the shallowest pool — we never did make it onto the Double Barrel Nitro Drop – I find my own hand curling into a miniature paw and inching upwards.