Is 'Christopher Robin' Actually an Okay Movie For Kids?
It's got 'Winnie-the Pooh' front and center, but just how 'Finding Neverland' is this gonna get?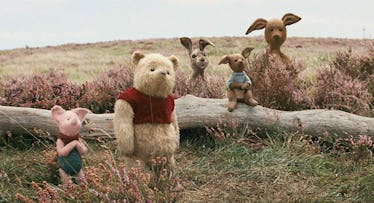 Disney Enterprises, Inc.
There's a hilarious moment from the trailers of Christopher Robin where Pooh asks Eeoyre to play the word game Say-What-You-See and Eeoyre responds "disgrace, shame, humiliation." While this is classic Eeoyre downer-ism, it could be worrying for parents thinking about taking the whole family to see the movie in theaters. Is this movie going to be mostly for adults reliving their childhood, actually for children, or both?
Last year, families might have been burned by the doco-drama Goodybe, Christopher Robin, which was definitely not for kids, and entered far more into the Finding Neverland territory of being a movie about a children's topic, but not a movie for children at all. So, what about Ewan McGregor as Christopher Robin in Christopher Robin? This is a Disney movie, after all, but then again, so was Saving Mr. Banks, a film about the creation of the movie Mary Poppins, rather than say, a Poppins sequel, like this winter's forthcoming Mary Poppins Returns.
Essentially, the fear with a film like Christopher Robin is that the whole thing ends up like Return to Oz, a movie that splits the difference between adulthood and childhood but doesn't please people in either audience.
With this movie, you can probably take the whole family, but be warned: it is very sad.
Christopher Robin will certainly be triggering for dads who have had hard discussions about balancing their work with their family life, but it's not like the movie is actually like Lars Von Trier dark. There are multiple conflicts in Christopher Robin, but the characters who drive the plot the most are the famous creatures from the Hundred Acre Wood: Piglet, Eeyore, Tigger, Owl, Rabbit, and of course, Pooh. Plus, these characters won't be rendered exactly as they were in the original A.A. Milne books, and the tip-off there is Pooh has that little red shirt, which is primarily a Disney thing.
So, the movie is a slight hybrid of a Pooh hazily recreated from the Milne stories, fused with the Disney version, seen through an adult lens. Does it work? Mostly, but it is strange.
All in all, families shouldn't be too worried about the adult world raining in the Pooh-party in Christoper Robin. But, they should be aware that there are all adult themes in the film. If anything, the film is actually about rejecting the adult world, which is possible, at least for the two hours you're sitting in the theater. (Though probably much harder once you leave.)
Christopher Robin is rated PG though, so if your kids are tiny (say, under the age of four) you may want to think twice.
The film is out in wide release in theaters everywhere on Friday.
This article was originally published on