New Disney+ Pixar Documentary Series Is a Must-Watch
The best documentary to stream with kids is on right now.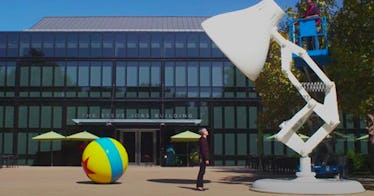 Getty
Everyone is aware of Pixar, but precious few know what makes the animation juggernaut tick. Well, that's about to change, as Disney+ debuted a short-form documentary series, Inside Pixar, on November 13. If you're looking for a light-hearted documentary to stream with kids who love movies, this is the ticket.
According to Disney the show "explores what sparks inspiration and the journey from idea to execution" at Pixar Animation Studios, with a focus on the "people, artistry, and culture" at the entity that has so far gifted moviegoers with 22 features, including The Toy Story quartet, A Bug's Life, the Cars trilogy, WALL-E, Coco, and Onward, as well as the upcoming Soul. As far as "educational" entertainment goes, this isn't half-bad.
"Inspired" is the title of the first collection, which just hit the streaming service. In it, Monsters University and Onward director Dan Scanlon shares his personal journey of inspiration that resulted in Onward, and screenwriter Kemp Powers discusses the experiences that led him to write a pivotal scene in Soul, while character art director Deanna Marsigliese (Incredibles 2, Inside Out,) talks about the character creation process and its inherent artistic detours. Additionally, associate production manager Jessica Heidt explains the program she created to improve gender balance in Pixar films, and longtime animator and animation supervisor Steven Hunter (A Bug's Life, Toy Story 4) details how his past experiences influenced his new SparkShorts film, Out.Check it out on Disney+, right now.
This article was originally published on