Where Are Indiana Jones Movies Streaming?
And what's up with Indy 5?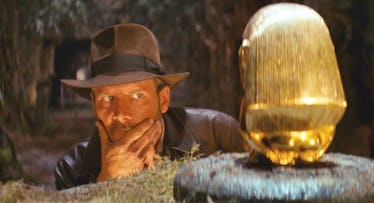 Credit:Lucasfilm
Did you hear that whip cracking? That's the sound of Indiana Jones movies switching streaming platforms.
In The Last Crusade, when Indiana Jones (Harrison Ford) passes a wall-carving depicting the "lost ark," he mumbles "Ark of the Covenant." Dr. Schneider (Alison Doody) says, "Are you sure?" And Indiana Jones grunts, "pretty sure." It's a hilarious understatement and one of the most clever ways a sequel has referenced its predecessor. Indy is pretty sure he knows what the Ark of the Covenant looks like because he was nearly killed trying to find it in Raiders of the Lost Ark. But, can you find Indiana Jones online? Where is Indy streaming? Are you sure or pretty sure?
Here's the deal with where Indiana Jones movies are streaming right now, and where they'll be streaming in the future.
Is Indiana Jones on Netflix?
He used to be, but not anymore. Will he be back? That's anybody's guess.
Which Indiana Jones is on Paramount+?
In 2021, all four Indiana Jones movies were on Paramount+. But, they're not anymore. The only Indiana Jones thing on Paramount+ — as of January 2022 — is The Young Indiana Jones Chronicles. Right now, if you want to watch Indy movies, you gotta rent them. Here are your best options:
Rent the movies on Amazon
Or, if you have Showtime or a Showtime add-on for Hulu or Prime, you can watch those four films that way right now, too.
Wait, Indiana Jones isn't on Disney+?
Yeah, you'd think, right? Because Lucasfilm is part of Disney now (I.E. Star Wars) and Lucasfilm has confirmed that Indiana Jones 5 is happening WITH Harrison Ford, you'd think that all of those movies would be on Disney+. But nope! They're not! And there's no reason to think that will change, either!
Is the Young Indiana Jones Chronicles streaming somewhere right now?
Yes!. As of July 2021, The Young Indiana Jones Chronicles is streaming on Paramount+. However, be warned, these are re-edited versions of the original seasons, meaning, if you remember some of these episodes in a different order, you're not wrong. Various episodes have been conflated to create, in theory, a more seamless chronology. Also, bizarrely missing is "Mystery of the Blues," the only episode in which an older Harrison Ford appears as a narrator, framing the story of his younger self.
Okay, but what about Indiana Jones 5? When is that coming out?
Supposedly, Indiana Jones 5 will come out in 2022. It's being directed by James Mangold, who directed Logan, so maybe expect the movie to straight-up be about "old Indy." Mangold has also teased that the movie could be set in the 1960s, which, considering the classic films happened in the 1930s, and Kingdom of the Crystal Skull was in the '50s, the '60s makes perfect sense for the next one.
It's also been announced that Phoebe Waller-Bridge will have a big role in Indy 5 alongside Harrison Ford. This casting is a tiny-bit meta insofar as Waller-Bridge played the Star Wars droid L3-37 in Solo: A Star Wars Story. Although Ford obviously wasn't in that film, Waller-Bridge will have the unique distinction of having been in two back-to-back Lucasfilm movies alongside Han Solo, and now, Indiana Jones.
Indy 5 is expected sometime in 2023.
Here's everything we've got on Paramount+ at the moment.
This article was originally published on