How To Watch 'Indiana Jones' Movies In the Correct Viewing Order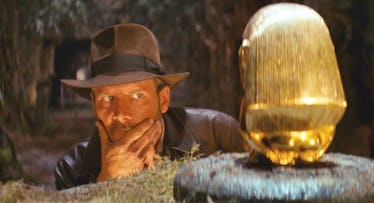 Credit:Lucasfilm
Indiana Jones 5, as the upcoming next installment in the Indiana Jones film franchise is tentatively titled, is – after years of delays, a new director stepping in, and additional stoppages due to the pandemic and an injury to Indy himself, Harrison Ford – nearing the finish line. Director James Mangold acknowledged the milestone on New Year's Day with a succinct Tweet that read "About a month remaining." That puts the film – which still involves the talents of franchise co-creator Steven Spielberg as a producer, though George Lucas is sitting this one out — on track to make its scheduled release date in the Summer of 2023.
On the other hand, that's a year and a half away! How to fill that time? Well, longtime fans can revisit the franchise once again, and newcomers can discover the adventures of everyone's favorite intrepid archaeologist for themselves before Indiana Jones 5 gets an actual title. The first four films are currently available for rental. If you've got 10 hours to spare to check them out, Fatherly is here for you with a handy-dandy Indy Film Watch Order. And we're going chronologically by story rather than opening date.
Indiana Jones and the Temple of Doom
Release: 1984
Setting: 1935
Released in 1984, Temple of Doom was the second Indy movie after Raiders came out in 1981. However, set in 1935, making it a prequel to Raiders of the Lost Ark. Temple of Doom can lay claim to one of the best-extended opening sequences in cinema history. It starts with the Paramount mountain logo on a gong, explodes into an elaborate musical number at a Shanghai nightclub (starring Mrs. Steven Spielberg, Kate Capshaw, as Willie Scott), devolves into a desperate search, on the club's floor, for a massive diamond (cue the spilled ice cubes!) and an antidote the poisoned Indy requires in order to, you know, not die. That leads to a wild plane ride, falling from the sky on an inflatable raft, sliding furiously down a snowy mountain on that slide, and winding up in raging waters, with Willie screaming or snapping at Indy every second, and Indy's young sidekick, Short Round (Jonathan Ke Quan), loving every minute of it. And this is just the first 15 or 20 minutes. The rest is mystical nonsense (involving powerful stones), Willie screaming more, some seriously shocking violence (a cult in action, child slaves being put to work), and several additional elaborate action sequences. Capshaw does what she can with Willie, but it's a thankless role as she's basically required to yell, cry, complain and endure a barrage of indignities that Willie did nothing to deserve. Also problematic is the fact that Ford and Quan share more chemistry than Ford and Capshaw. As a whole, the film is worthwhile as a fast-paced adventure tale, but it's a prequel only in its date and sheds no light on what makes the Indiana Jones of Raiders of the Lost Ark tick.
Raiders of the Lost Ark
Release: 1981
Setting: 1936
The first and best installment in the Indy series so far. Released in 1981, Raiders has it all: fun, spirit, comedy, action (the massive boulder!), buried treasure, derring-do, great character introductions and development, a rousing John Williams score, spectacular stunts, knockout special effects, and palpable chemistry between the leads, Ford and the wonderful Karen Allen. Circa 1936, intrepid professor/archaeologist Indiana Jones seeks to find the Ark of the Covenant, the legendary golden chest that housed the Ten Commandments and supposedly bestows invincibility upon whoever possesses it. Indy is up against the Nazis in pursuing the Ark and must contend with a hiss-worthy rival archaeologist (Paul Freeman as Rene Belloq), and Ronald Lacey as a particularly loathsome Gestapo agent. Fortunately, by his side, Indy has the ballsy Marion (Allen), avuncular Sallah (John Rhys-Davies), and loyal Marcus (Denholm Elliott). There's not a false note in the entire movie, which tips its cap to the serial pulp films of Spielberg's and George Lucas's youths and remains a classic. Just a heads up for anyone whose kids might be seeing Raiders for the first time: it's got several violent scenes, including a nail-biting encounter between a man and a plane propeller, and a couple of spectacularly gruesome deaths (cue the melting face).
Indiana Jones and the Last Crusade
Release: 1989
Setting: 1938
It's Indy vs. the Nazis again in the third Raiders film, which opened in 1989. The film takes place mostly in 1938, following a brief prologue set in 1912 that features River Phoenix as young Boy Scout Indy (who learns a thing or two about snakes, bullwhips, chin scars, and stylish fedoras). This time, everyone is chasing the Holy Grail, the actual chalice associated with Jesus Christ and King Arthur. And we mean everyone: Nazis, Indy, and even Indy's father, Henry Jones, Sr. (Sean Connery), who went missing during his search for the artifact, which sets up a contentious and entertaining family reunion.
There's plenty of action and the tone is as playful as it gets, with Ford and Connery clicking perfectly as the Bickersons, competing about everything, including the affections of the film's leading lady, Elsa (Allison Doody), who may or may not be worthy of their attention. Returnees from the previous movies include Denholm Elliott and John Rhys-Davies. Phoenix, who passed away four years later, played the son of Ford's character in The Mosquito Coast (1986). Add in yet another sublime score by John Williams, numerous stunning locations, another round of inventive booby traps and action sequences, and you've got a blockbuster that's as good or — in the minds of more than a few fans – even better than Raiders.
Indiana Jones and the Kingdom of the Crystal Skull
Just as The Last Crusade assumed a lighter feel in the wake of the too-dark Temple of Doom, Indiana Jones 5 will be tasked with atoning for the sins of Kingdom of the Crystal Skull (2008). We at Fatherly want to cheer on films and filmmakers, but the best we can come up with in the way of praise for this one is that Karen Allen, back as Marion, elevates every scene she's in. The story unfolds in 1957 and pits Indy against a Russian baddie, Irina Spalko (Cate Blanchett), and involves aliens, crystal skulls, a family reunion, and more. Shia LaBeouf, then red-hot, co-stars as Marion's motorcycle-riding son, Mutt. H
is performance doesn't work. Worse is Blanchett, one of the best actresses on the planet, who comes off like Natasha from Rocky & Bullwinkle. It's hard to explain how some elements simply fall flat. There's a crazy sequence in which Indy hides in a lead-lined refrigerator that's jettisoned into the air by a nuclear explosion and lands miles away, bouncing end over end several times, until Indy kicks open the door and gets on with his day. Yes, every action scene in the Indy films is preposterous, but whereas, for example, Indy, Willie, and Shorty surviving a wild ride through the sky, on snow, and in water elicit cheers in Temple of Doom, Indy's ride in a fridge here only generates groans.
Where to Stream All the Indiana Jones Movies Plus The Young Indiana Jones Chronicles.
All four films were streaming on Paramount+, but no longer are. Your best bet right now is to rent them on Amazon Instant Video, Google Play, Vudu, or iTunes. We also highly recommend The Young Indiana Jones Chronicles (1992-1994), which was a George Lucas labor of love that ran as a television series with episodes that were of movie quality and length. In fact, several of the episodes (and four telemovies) were released theatrically around the world.
The stories center on an elderly Indy (George Hall) looking back at the globe-spanning exploits of his youth. Corey Carrier played Indy at ages 8-10, while Sean Patrick Flanery portrayed Indy at ages 16-21. Harrison Ford even popped for one episode as 50-year-old Jones. And the guest stars are ridiculous: Daniel Craig, Catherine Zeta-Jones, Jeffrey Wright, Anthony Daniels, and on and on.
The Young Indiana Jones Chronicles is currently streaming on Paramount+.
This article was originally published on