Here's What Critics Are Saying About 'Incredibles 2'
Critics agree that the superhero sequel lives up to the sky-high expectations.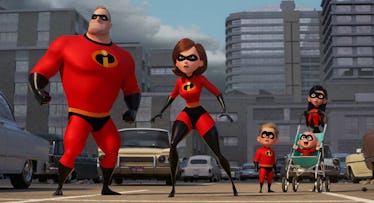 'Incredibles 2'
Incredibles 2 comes to theaters this Friday with a level of expectations that rarely exists for an animated film. The newest Pixar film can't just be good, it needs to be undeniably great. Why? Because the original Incredibles is widely considered one of the best animated movies ever made — it even won an Oscar in 2004 — which means that to justify its existence, Incredibles 2 needs to have a similar impact.
Fortunately, so far, Incredibles 2 seems to be up to the challenge, as it is currently enjoying a 97 percent approval rating on Rotten Tomatoes. Here is what the reviews are saying about the upcoming superhero flick.
Critics have offered nearly universal praise of the film, noting that the sequel manages to live up to the hype bestowed upon it because of the original's iconic reputation. Peter Travers of The Rolling Stone said that, despite the 14-year wait, Incredibles 2 is the perfect sequel that kids and adults will love. Travers wrote:
"[T]his follow-up is every bit the start-to-finish sensation as the original, and you'll be happy to know that Bird's subversive spirit is alive and thriving. The kiddies probably won't notice – they'll be too distracted by all the whooshing derring-do – but like its Oscar-winning predecessor, Incredibles 2 doesn't ring cartoonish. It rings true."
Critics also praised Incredibles 2 for its nuanced approach to the difficulty and joy of raising kids, with Nick Schager of The Daily Beast referring to the film as "An Action-Packed Ode to Parenting in the Age of Technology." Schager spoke further about the topic in his review, writing:
"It's as accurate and nuanced a portrait of parenthood and childhood that one's apt to see in a mainstream blockbuster. The fact that it's also a rollicking and aesthetically eye-catching adventure is simply a super bonus."
Much like Coco, the previous entry into the Pixar canon, critics were blown away by how gorgeous Incredibles 2 looks, as recent developments in CGI have made the studio's movies reach a new level aesthetically. Brian Tallerico of RogerEbert.com felt it was one of the best-looking animated films of all time, writing:
"Pixar films are famously beautiful when it comes to character design and art direction, but Incredibles 2 is one of the most significant achievements in this regard. The word that I kept thinking of was fluid… Incredibles 2 just moves beautifully, sliding from one scene to another with such grace and momentum. And the action sequences are among the best you'll see all year."
While the majority of reviews have been positive, a few critics have expressed some disappoint about Incredibles 2. The majority of the criticism has revolved around the film lacking the emotional depth of other Pixar films, including the first Incredibles. Tim Grierson from Screen Daily offered a mostly glowing review of Incredibles 2 but also noted the film's relatively low emotional intelligence, writing that:
"If there's one quibble with this nimble entertainment, it's that Bird's eye-popping flair outpaces his story's emotional resonance. Incredibles 2 is such a fleet treat that it doesn't always stop for its characters' pathos to really connect."
Sara Stewart of the New York Post mostly enjoyed Incredibles 2 but did write that the film, which is nearly two-hours long, "could be a little shorter." She also complained about the outdated gender dynamics, writing that:
"As it nears its conclusion, it drags on a bit, which is when the largely-kid audience around me started to lose focus. Also, it seems oddly regressive in this era to have a supposed family man so unacquainted with the day-to-day of raising his own children."
But despite a few minor complaints, reviews have remained, for the most part, entirely positive. In fact the most consistent criticism lobbed at the sequel seems to be the fact that it is a sequel, which means it naturally feels less fresh than the original. Billy Goodykoontz of AZ Central may have offered up the perfect summation of the critical response to Incredibles 2 when he wrote:
"It's good — funny, smart and contemporary. By definition it can't be as groundbreaking as the first film, but never does it feel like a cash grab."
This article was originally published on