'Incredibles 2' Director Calls Critics 'Lazy,' Praises Tom Cruise
Brad Bird clears the air about that Ayn Rand stuff.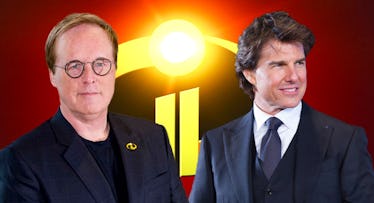 Brad Bird is misunderstood. Or so he thinks. The man behind Tomorrowland, Ratatouille, and both Incredibles movies recently said that his detractors are dead wrong about him. He's neither an Ayn Rand fan nor do his films contain hidden right-wing messages.
In an interview published with Den of Geek this week, Brad Bird said: "Me being the Ayn Rand guy is a lazy piece of criticism." He went on to say that if his films did contain hidden messages, they "would all be shit." The fighting words from Bird were in response to the widespread theory that The Incredibles and Tomorrowland are based on Ayn Rand's theory of determinism, which states that people have to help themselves if they want to achieve greatness and that everyone else should be left in the dust. "I became the right-wing darling with Incredibles, where it was seen as being elitist," bemoaned Bird. "That was a misread of the movie. There's a lazy Ayn Rand thing that some people picked up on."
The director also spoke warmly about Mission: Impossible: Ghost Protocol and praised Tom Cruise in specific. "Tom's enthusiasm for working with me helped a lot," Bird said. "He protected me on that film in a really good way." Essentially, Bird credits Cruise with being sly enough to see that there's no difference between the way shots are crafted in an animated film versus a live-action film, which made it easier for Bird to bring his vision to the screen. For a lot of fans, the Bird-directed Ghost Protocol helped to revitalize the Mission Impossible franchise, which will enjoy its sixth installment at the end of the month with Mission:Impossible: Fallout. (It's already getting rave reviews as a perfect summer blockbuster.)
-Incredibles 2 is out in movie theaters now. Mission: Impossible: Fallout (directed by Christopher McQuarrie) is out on July 27.-
This article was originally published on