Inauguration 2021: Check Out This Free Printable Biden-Harris Coloring Book
Oh, and the new White House doggies, too — Champ and Major!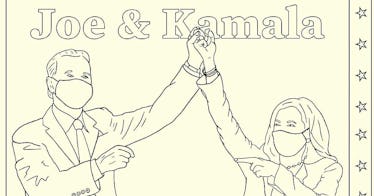 Want something to do on Inauguration Day with your kids, but maybe your toddler isn't going to be able to sit to watch the entire ceremony? Well, while there is an excellent kid-friendly-livestream called "Our White House," there's also a much more classic toddler activity to hit-up during the Inauguration. A coloring book!
Yes, the good people at bideninaugural.org, have created a printable, totally free, and totally rad 2021 coloring book for the Biden-Harris Inauguration. Here's a link to the printable PDF file.
Hot tip from a parent who has just tried to print-out this coloring book. Be sure to select "pages per sheet" (if you have that option) and select "2." Otherwise, the images will be GIANT and take several pages to print out. Also, I would recommend using the "Open In PDF Preview" option if you're printing on a Mac. That will show you roughly what the pages will actually look like when you print them. I had a hard time getting the Joe and Kamala high-fiving image to print out just right, but Champ and Major and Kamala came out just fine.
Images in the Inaugural Biden-Harris coloring book include Joe and Kamala giving each other high-fives, Biden-style aviator sunglasses, ice cream cones, images of Air Force One, Kamala looking cool, the number 46, and yes, new White House dogs Champ and Major.
Here are the dogs! Just in case you thought we weren't serious!
The entire coloring book is a PDF and can be viewed and downloaded here.
You can live-stream the Inaugration with your kids here or here.