How to Watch IMAX Versions of Marvel Movies On Disney+
Are you going to need a new TV? Which movies are available in IMAX? We have the answers.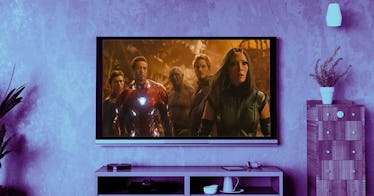 Disney
Disney+ announced that starting on Friday, subscribers will be able to view 13 MCU movies in an expanded IMAX aspect ratio as a part of the self-proclaimed "Disney+ Day" on November 12, giving viewers a chance to feel like they are watching on the big screen from the comfort of their own couch. Here is everything you need to know to have an IMAX experience at home.
How Do I Find the Movies?
Disney+ is making this pretty simple for you by giving you a variety of ways to find these special titles. All you have to do is search "IMAX" and the titles will be there for you to watch. You can also use the IMAX Enhanced filter on the movies page to see all movies available in both IMAX and widescreen. And finally, you can just search the for the movies as there will be a Versions tab that allows you to choose whether you want to watch it in the IMAX Enhanced or widescreen version.
Which Movies Will Be Available in IMAX?
Ant-Man and the Wasp, Avengers: Infinity War, Avengers: Endgame, Black Panther, Black Widow, Captain America: Civil War, Captain Marvel, Doctor Strange, Guardians of the Galaxy: Volumes 1 & 2, Iron Man, Thor Ragnarok, and Shang-Chi and the Legend of the Ten Rings will all be available to watch. So basically, you can cancel any plans you had and have an IMAX MCU marathon this entire weekend, if your heart desires.
Do I Need Some Kind of Special Equipment?
Thankfully, no. Any device you have that can stream Disney+ can also support IMAX's expanded aspect ratio, which means you aren't going to have to buy any extra device to get the full experience.
Are More IMAX Movies Coming?
That's not currently clear but it seems likely that Disney+ will want to give subscribers more options as time goes on. If any new titles pop up, we'll keep you updated.